'Shockingly bad... Smacks of votebank politics...' BJP on Congress resolution backing Palestine
The Congress party initially condemned the "brutal attacks on the people of Israel" by Hamas but has now extended support for the Palestinian cause. During a Congress Working Committee (CWC) meeting, a resolution was passed expressing concern over the ongoing conflict and calling for a ceasefire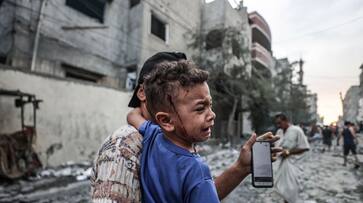 The Congress party on Monday extended its support for the Palestinian cause, a day after it issued a statement "condemning" the "brutal attacks on the people of Israel" by the Palestinian militant group Hamas. During a Congress Working Committee (CWC) meeting today, a resolution was passed expressing concern over the ongoing conflict and calling for an immediate ceasefire. The resolution reiterated its support for the rights of the Palestinian people. The conflict between Hamas and Israeli defence forces since Saturday has resulted in approximately 1,200 casualties.
An official statement from the Congress party emphasized the importance of "dialogue and negotiations" to resolve the Israeli-Palestinian conflict.
"The Indian National Congress has consistently believed that the legitimate aspirations of the Palestinian people for a life of self-respect, equality, and dignity can only be realized through a process of peaceful dialogue and negotiations, while also safeguarding the legitimate national security interests of the Israeli people. Violence of any kind never offers a solution and must be halted," a statement by the Congress on X (formerly Twitter) read.
On the third day of intense clashes aimed at dislodging Hamas fighters, Israel's army declared on Monday that it had regained control of southern areas near the Gaza Strip. The surprise attack by Hamas shocked the nation, drawing comparisons to the events of 9/11.
Earlier, a statement released by the Congress's General Secretary, Jairam Ramesh, had also emphasized the party's belief in the need for peaceful dialogue and negotiations to fulfil the legitimate aspirations of the Palestinian people while ensuring Israel's national security interests.
The Bharatiya Janata Party (BJP) criticized the Congress for its resolution, describing it as deeply flawed and disconnected from public sentiments. The BJP accused the Congress of failing to acknowledge the gravity of the situation in Israel, where it claimed one of India's key allies was facing a significant challenge posed by radical Islamist extremists. The BJP accused the Congress of not condemning terrorism, failing to name Hamas as a perpetrator of terror, and using the resolution for political purposes related to minority vote banks.
Last Updated Oct 9, 2023, 9:27 PM IST