'A true Indian brand': Boat withdraws sponsorship for Canadian singer Shubh's tour over Khalistan support
The article discusses Boat's decision to withdraw sponsorship for Canadian singer Shubh's tour due to his previous expressions of support for Khalistan, amid allegations of Indian involvement in the killing of Khalistani leader Hardeep Singh Nijjar in Canada.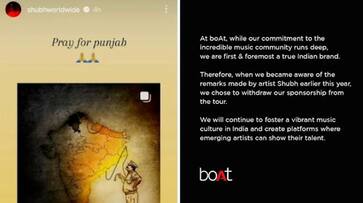 Boat, the renowned Indian electronics brand, has decided to withdraw its sponsorship for the upcoming tour of Canadian singer Shubneet Singh, also known as Shubh, who has previously expressed support for Khalistan. This decision comes in the wake of Canada's allegations that India was involved in the killing of Khalistani leader Hardeep Singh Nijjar in the Canadian province of British Columbia.
Shubh had been scheduled to perform aboard Cordelia Cruises in Mumbai from September 23 to 25. Boat took to Twitter to make the announcement, citing Shubh's controversial actions earlier this year as the primary reason for severing ties with the Canadian singer. Shubh had shared a distorted map of India in a show of solidarity with Khalistani terrorists.
In a statement posted on Twitter, Boat explained their decision, stating, "At boAt, while our commitment to the incredible music community runs deep, we are first & foremost a true Indian brand. Therefore, when we became aware of the remarks made by artist Shubh earlier this year, we chose to withdraw our sponsorship from the tour."
Boat's decision to discontinue sponsorship also followed social media users questioning the company, particularly co-founder Aman Gupta, for supporting Shubh's event despite his controversial views.
Members of the Bharatiya Janata Yuva Morcha (BJYM) took action on Saturday by tearing down posters promoting Shubh's event. The singer, who had also shared a distorted map of Kashmir, was scheduled to perform alongside DJ Chetas, and an event called "Bismil Ki Mehfil" was organized for the cruise event.
BJYM president Tajinder Singh Tiwana reportedly stated, "There is no space for Khalistanis who are the enemy of the integrity and unity of India. We won't let Canadian singer Shubh perform on the auspicious land of Chhatrapati Shivaji Maharaj, Mumbai. If no proper action is taken, then the organizers will have to face our opposition."
Last Updated Sep 19, 2023, 4:53 PM IST