'BJP govt responsible for load shedding in Karnataka': Minister KJ George
Karnataka faces a severe electricity shortage, exacerbated by insufficient rainfall and a lack of capacity expansion during four years of BJP rule, according to Energy Minister K.J. George. The state has been buying additional fuel and seeking energy solutions, with efforts to address the deficit, including solar installations and land allocation for solar plants.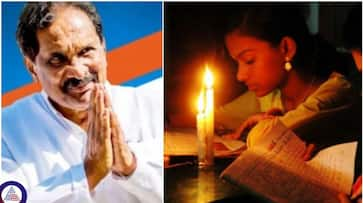 Karnataka is grappling with a severe electricity shortage, primarily due to insufficient rainfall and a lack of capacity expansion efforts in the last four years of BJP rule, stated the Energy Minister, K.J. George.
During a media interaction in New Delhi, he underscored the evident rain deficit in Karnataka, emphasizing that the electricity shortfall had become even more pronounced in September. The state's demand for electricity has reached 16,000 megawatts, while the supply lags behind by 1,500 megawatts. George revealed that Karnataka had been purchasing additional fuel to bridge the gap and had engaged in discussions with neighbouring states to address the energy deficit.

Electricity exchange initiative launched in response to Karnataka's energy shortage
George expressed his concern, noting that the previous Congress government had taken measures to enhance fuel production. However, he attributed the current electricity shortage to the four years of inactivity during the BJP's tenure. Steps have been taken to mitigate this deficit, including the installation of solar energy systems at substations. Requests for government land allocations have been made to establish solar plants and procure electricity from private entities.

Bengaluru metro clocks 7 lakh passengers in one day post Purple Line expansion
The Energy Minister also conveyed that sugar mill owners were being urged to supply electricity, addressing criticisms from the BJP regarding power cuts. In response to BJP's criticism, George asserted that the current situation was a result of their four-year rule and emphasized that overcoming the shortfall would take time.
Regarding political opponents, George commented that the BJP had no guarantee to offer, and he urged BJP leaders to engage with protesting farmers and citizens. He underscored that efforts were ongoing to address the power shortage in Karnataka.
Last Updated Oct 13, 2023, 3:33 PM IST