L&T teams up with Spain's Navantia to bid for Indian Navy's prestigious P75 (I) submarine deal
With an estimated value exceeding Euro 4.8 billion (equivalent to Rs 43,569 crore), the P75(I) program is India's most substantial defence acquisition to date. It also marks the inaugural undertaking under the Defence Ministry's ambitious Strategic Partnership (SP) model of acquisition.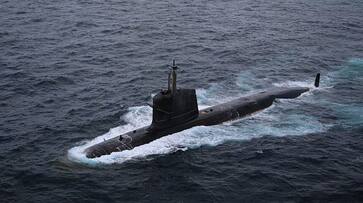 Larsen & Toubro has joined hands with Spanish firm Navantia aiming to jointly submit a techno-commercial bid for the prestigious P75 (India) submarine program of the Indian Navy. The Teaming Agreement (TA) was held at the Spanish Embassy in New Delhi. The P75 (I) project mandates that the Indian bidder partners with a Foreign Collaborator (FC) to execute the program, which involves the delivery of six conventional submarines equipped with Air-Independent Propulsion (AIP) while meeting specified indigenous content requirements. 
Estimated to be valued at over Euro 4.8 billion (Rs 43,569 crore), this project stands as India's largest defence acquisition endeavour. Furthermore, a long-term lifecycle sustenance contract of similar value is expected to follow. 
The P75(I) program is also significant as it will be the first program to be undertaken under the ambitious Strategic Partnership (SP) model of acquisition introduced by the Ministry of Defence. L&T and Navantia had previously signed an MoU for this program on April 11, 2023, in Madrid, and this TA signifies the culmination of their collaboration.
L&T CEO and MD S N Subrahmanyan said, "L&T is proud to collaborate with Navantia for this prestigious program of strategic importance for the nation's security. Navantia's glorious 300-year-old track record in naval construction and technical expertise gives us a competitive advantage in this program and offer the Bio-Ethanol Stealth Technology (BEST) and environmentally Green AIP solution. We are committed to providing the most contemporary solution for Indian Navy's requirements at a competitive price."
As per the agreement, Navantia will leverage its expertise to design the P75(I) submarines based on its S80 class of submarines. The first vessel of this class was launched in 2021 and is currently undergoing sea trials before its delivery to the Spanish Navy by the end of 2023. 
In addition to the S80 class, Navantia has been involved in the design and construction of the Scorpène class of submarines in partnership with DCNS (now Naval Group) of France, which have been successfully exported to Chile and Malaysia. 
Navantia has also contributed to the Scorpene submarines (Kalvari class) built in India, providing necessary guidance and support to the Indian shipyard.
The P75(I) program emphasizes the integration of an AIP system, and Navantia claims that its 3rd Generation AIP solution is the most advanced, efficient, compact, easy to operate and maintain, and environmentally friendly system of its kind worldwide. 
It utilizes bioethanol as a source of hydrogen, offering cost-efficiency, ready availability, and negating the need for special infrastructure. The high hydrogen density in ethanol enhances the AIP system's efficiency, while the liquid form of ethanol eliminates the risks associated with hydrogen storage. Moreover, the widespread availability of ethanol enables the system to be refuelled anywhere in the world.
Last Updated Jul 11, 2023, 9:13 AM IST