Zeenat Aman reveals battle with eye condition 'Ptosis,' says that it "narrowed her work opportunities ..."
Veteran actress Zeenat Aman opens up about her struggle with ptosis, a decades-old eye condition, and her courageous journey to regain her vision through surgery.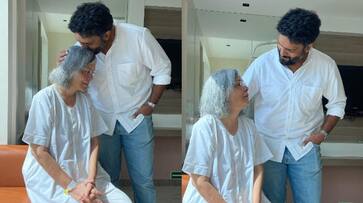 Zeenat Aman left her fans in a state of shock and concern on Tuesday, November 7, when she took to her instagram to disclose her recent diagnosis of a medical condition known as ptosis, which primarily affects one of her eyes. The veteran actress candidly shared that this condition is the consequence of a muscular injury she endured many decades ago, and in May of this year, she underwent hospitalization to address this issue.
In her heartfelt revelation, Zeenat Aman acknowledged the presence of an ongoing concern that has been with her for the past four decades. She said, "There has been an elephant in the room with me for the past 40 years. It is time to show this elephant the door. I have a condition known as ptosis – the result of an injury I suffered many decades ago that damaged the muscles around my right eye. Over the years, it caused my eyelid to droop further and further. And a few years ago, it became so acute that it began to obstruct my vision,"
The celebrated actress further confessed that this condition had posed challenges in her career and personal life, as a significant portion of her profession was linked to her appearance. "When so much of one's career is predicated on one's appearance, coming to terms with a dramatic change to it is difficult. I know for a fact that this ptosis narrowed my opportunities and made me the subject of unwanted attention. But despite the gossip, the comments, and the questions, I never felt diminished by it. It helped of course that there were always a few stalwarts that stood by me and chose to work with me still."
Zeenat Aman also disclosed that the medical treatments available to her in the past had proven to be unsuccessful in addressing her condition. However, in April of this year, her situation took a significant turn when an ophthalmologist informed her that things have advanced. She added, "I dithered for a long time, then underwent a battery of tests and finally committed to the procedure. That morning in the hospital I was terrified. My extremities turned icy and involuntarily shivers racked my body. Zahaan kissed my forehead, reassured me and wheeled me to the OT, where I surrendered to the hands of my medical team. I emerged from there an hour later – alive, well and looking like a pirate with an eye patch,"
Zeenat Aman concluded her heartfelt narrative by expressing that, while her recovery has been a gradual process, she is delighted to report a marked improvement in her vision.
ALSO READ: Jennifer Aniston 'suffering most' with FRIENDS co-star Matthew Perry's death; Here's what we know
Last Updated Nov 7, 2023, 1:40 PM IST