Jennifer Aniston 'suffering most' with FRIENDS co-star Matthew Perry's death; Here's what we know
Jennifer Aniston, deeply affected by Matthew Perry's recent death, grapples with multiple losses in a year, including her father's passing. The Friends cast mourns their beloved co-star, emphasizing their strong bond in a joint statement. Jennifer faces profound challenges but seeks solace in the support of loved ones and fans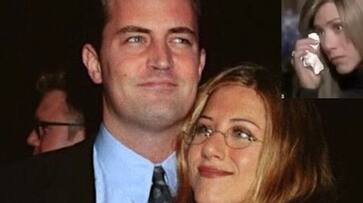 Jennifer Aniston, celebrated for her iconic role in the TV series Friends, is presently enduring an extraordinarily challenging phase in her life due to the tragic loss of her co-star, Matthew Perry.
According to a source cited by Page Six, Jennifer Aniston and Courteney Cox, both beloved members of the Friends cast, are the two individuals most profoundly impacted by Matthew Perry's passing. The source further revealed that Jennifer appears to be grappling with the loss most acutely, and it has been an exceptionally trying period for her.
In addition to the loss of Matthew Perry, Jennifer has also had to bear the pain of losing her father, soap opera legend John Aniston, less than a year ago. The source pointed out that this constitutes a second heart-wrenching loss in such a short span of time. The one-year anniversary of her father's passing is looming, and Jennifer has yet to fully come to terms with that loss. The death of Matthew Perry has now compounded her grief, leaving her feeling completely overwhelmed.
Matthew Perry, renowned for his indelible portrayal of Chandler Bing on Friends, tragically passed away at the age of 54 on October 28. The precise cause of his death remains undisclosed. This loss is particularly poignant for Jennifer and her surviving co-stars, as it signifies the first time a member of the Friends cast has departed.
Although Jennifer Aniston has not personally spoken about Matthew Perry's passing, she and her fellow Friends cast members issued a collective statement on October 30, which was obtained by PEOPLE. In the statement, they conveyed their profound grief and underscored the deep bond they shared, expressing, "We are all so utterly devastated by the loss of Matthew. We were more than just cast mates. We are a family. There is so much to say, but for now, we're going to take a moment to grieve and process this incomprehensible loss."
ALSO READ: Netflix to acquire Varun Tej, Lavanya Tripathi's wedding footage rights? Here's what we know
Matthew Perry was laid to rest in a private ceremony on November 3 at Forest Lawn Cemetery in Los Angeles. The Friends cast and his family were present to bid their final farewells. This period has unquestionably been immensely challenging for Jennifer Aniston, as she must now navigate the intricate emotions of mourning multiple losses in a relatively short timeframe. The compassion and support of friends, family, and fans will undoubtedly be instrumental as Jennifer Aniston copes with these profound losses.
ALSO READ: Zara Patel reacts to her viral Deepfake video of Rashmika Mandanna, 'I am deeply upset by what is happening'
Last Updated Nov 7, 2023, 12:45 PM IST