'The Vaccine War' poster OUT; Vivek Ranjan Agnihotri, Pallavi Joshi's film gets thumbs up from netizens
The first poster of 'The Vaccine War' is out: Vivek Ranjan Agnihotri and Pallavi Joshi start promotions in India after a successful stint in the USA! The poster features the film's star cast, including Anupam Kher, Nana Patekar, Raima Sen, Pallavi Joshi, and Sapthami Gowda.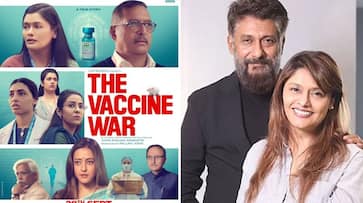 Following the success of his 2022 film The Kashmir Files, film director Vivek Agnihotri is back with another real-life drama, The Vaccine War. Regardless of the controversy surrounding The Kashmir Files, which is based on the 1990 migration of Kashmiri Pandits from Kashmir valley, was a huge hit. And it appears that Agnihotri intends to replicate his accomplishment with The Vaccine War. 
The excitement surrounding the impending bio-science drama has already begun. Agnihotri has now surprised admirers with another surprise. The filmmaker has released the first look poster for The Vaccine War on social media, adding to the frenzy.
After receiving resounding applause at every screening in the United States, the dynamic duo of Pallavi Joshi and Vivek Ranjan Agnihotri is gearing up to take 'The Vaccine War' to new heights with a grand promotional campaign in India. The anticipation surrounding the film reaches its heights as the team unveils the eagerly awaited first poster, showcasing a spectacular cast.
In this captivating poster, the ensemble cast exudes intrigue. Nana Patekar, in a visionary pose, promises to deliver a performance that will resonate deeply with audiences. Raima Sen's enigmatic look adds an element of cunning mystery to the narrative, while Pallavi Joshi, in a classy avatar, is set to leave an indelible mark.
"PRESENTING: The first look at India's first-ever Bio-science film, The Vaccine War. Releasing worldwide on 28 September 2023" wrote Vivek Agnihotri on X (formerly Twitter) and on Instagram. 
The first-look poster showed a glimpse of the star cast of the film, including Anupam Kher, Nana Patekar, Raima Sen, Pallavi Joshi, Sapthami Gowda, Nivedita Bhattacharya, Girija Oak Godbole, and Mohan Kapur. The poster depicted a stressful setting, with the characters wearing anxious looks. Sapthami Gowda, of Kantara renown, was dressed in a doctor's garb, indicating the role she would play in The Vaccine War. 
Raima Sen, on the other hand, wore a sari. The billboard also had a COVID-19 vaccination vial embedded with a nurse wearing a face mask and holding a tray.
'The Vaccine War' has already made waves internationally, earning standing ovations across various screenings in the United States. Now, as the film prepares for its India promotions, expectations are soaring, and anticipation is palpable.
The stellar cast, the thought-provoking subject matter, and the visionary direction of Vivek Ranjan Agnihotri are all converging to create a cinematic experience that promises to be unforgettable.
Produced by Pallavi Joshi and I Am Buddha, the film will be released in Hindi, Tamil and Telugu.
Last Updated Sep 9, 2023, 12:39 PM IST