Taylor swift fans face water shortage during concert; singer shows grief over attendee dying at venue
Prior to the commencement of Taylor Swift's concert, a 23-year-old fan tragically passed away at the venue. Moreover, the event witnessed a lack of adequate organization, with concert-goers experiencing dehydration and a notable absence of water provisions.
Taylor Swift's concert in Brazil faced unexpected challenges even before the famous singer could start performing. Currently, Taylor is captivating audiences on her Eras Tour this year. Unfortunately, during her performance in Brazil over the weekend, something tragic happened that affected the devoted Swifties, her affectionate fanbase.
The upsetting news came just before the concert began – a fan named Ana Clara Benevides, who was 23 years old, fell ill at the venue and sadly passed away due to cardiorespiratory arrest. Taylor Swift, visibly saddened by this heartbreaking incident, shared her feelings on Instagram Stories, expressing grief over the untimely loss of Ana Clara.
She stated, "I can't believe I'm writing these words, but it's with a shattered heart that I say we lost a fan earlier tonight before my show.I can't even tell you how devastated I am by this. There's very little information I have other than the fact she was so incredibly beautiful and far too young." She further said, "I'm not going to be able to speak about this from the stage because I feel overwhelmed by grief when I even try to talk about it. I want to say now I feel this loss deeply and my heart goes out to her family and friends. This is the last thing I ever thought would happen when we decided to bring this tour to Brazil."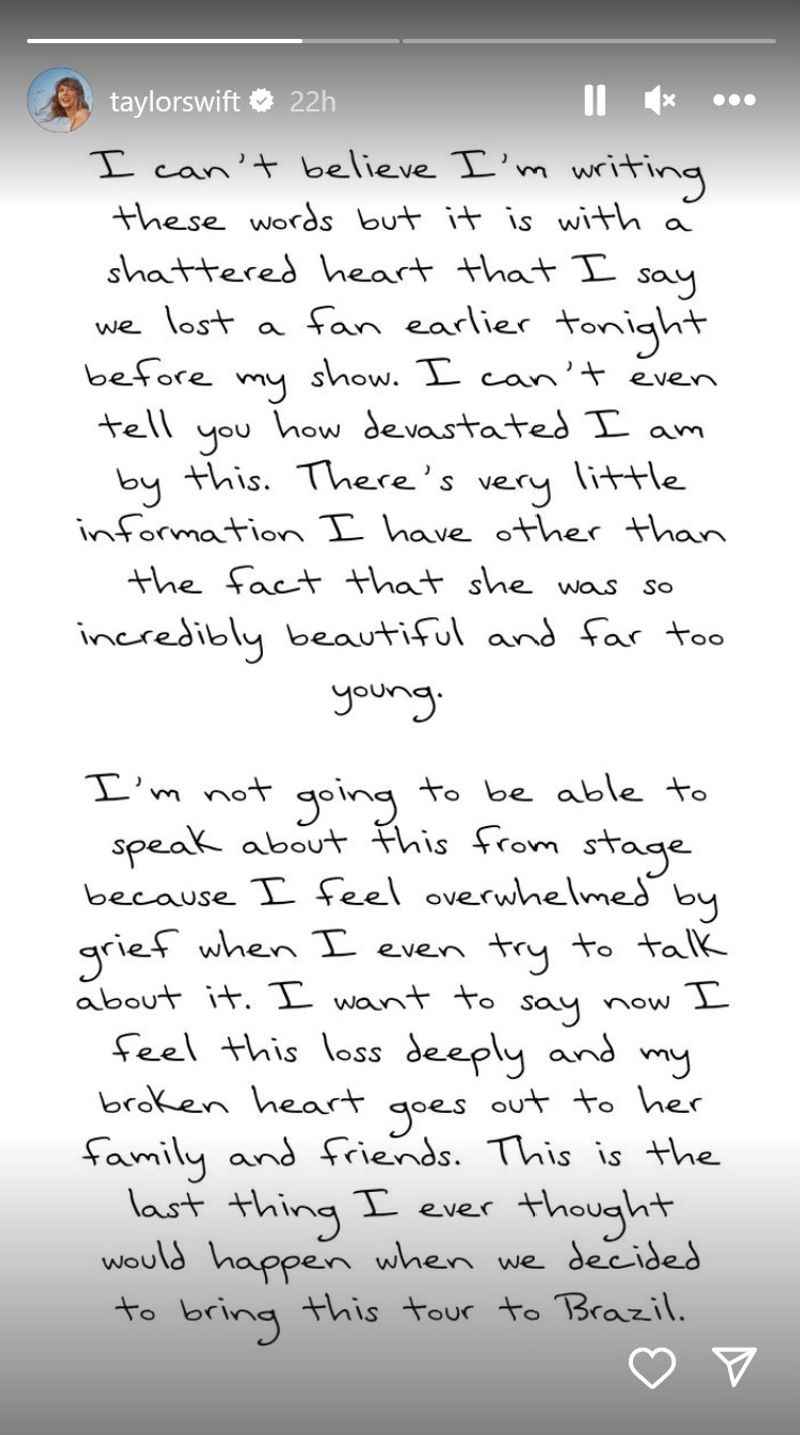 Adding to the difficulties, there were problems with getting water during the concert. Reports from the Brazilian newspaper Folha de S.Paulo highlighted challenges related to water availability, creating a disconcerting atmosphere for the audience. A video that has become widely shared shows Taylor Swift stopping the show to address the lack of water, actively helping speed up the distribution of water bottles to the audience. During a poignant moment in the performance, Taylor not only paused her set but also joined the crowd in chanting for 'water,' urging the organizers to quickly provide water bottles.
Another circulating video captures Taylor during a performance of "All Too Well," where she personally intervened to get a water bottle from her team and gave it to a fan in need. While Taylor Swift hasn't directly commented on the water supply situation, a TikTok user claimed that the stadium didn't allow fans to bring their own water bottles. The concert, meant to be a joyful celebration of music, turned into a somber event marked by the loss of a devoted fan and logistical challenges.
In addition to this, Taylor swift has now postponed her next show which was supposed to take place in Rio de Janerio. In another story on instagram she penned "I'm writing this from my dressing room in the stadium. The decision has been made to postpone tonight's show due to the extreme temperatures in Rio. The safety and well being of my fans, fellow performers, and crew has to and always will come first,"
ALSO READ: Malayalam actor Vinod Thomas found dead inside car in Kottayam
Last Updated Nov 19, 2023, 10:45 AM IST