Shraddha Kapoor claims veg rice is not 'Pulao' but 'Biryani', see photo
Bollywood's food-loving Shraddha Kapoor shares her 'Kathal' biryani joy on instagram, adding humor to the 'Veg Biryani' vs. 'Pulao' debate!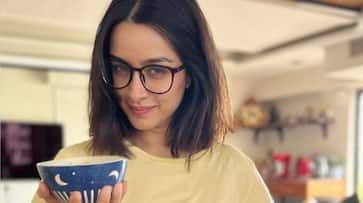 Shraddha Kapoor, a renowned Bollywood actress, is known for her love for food, and she frequently shares her favorite dishes with her fans on Instagram. Recently, she delighted her followers by posting a picture of herself savoring a vegetable biryani made with raw jackfruit, also known as Kathal. With the picture, she humorously remarked, "Yes, there's biryani for vegetarians too!...Yes, it's #KathalBiryani #NotPulao!" This playful comment highlights the ongoing debate between non-vegetarians and vegetarians regarding the concept of "vegetable biryani."
Shraddha Kapoor, consistently engages with her fans on a daily basis through social media and her sarcastic responses on the internet, often generate excitement among her followers, making her a favorite among her fans.
Currently, Shraddha Kapoor preparing for the sequel to her popular film 'Stree 2.'
ALSO READ: Ranveer Singh's heartfelt reunion with MS Dhoni creates social media buzz
Last Updated Oct 5, 2023, 6:47 PM IST