Selena Gomez opens up about social media break; HERE is what she said
Selena Gomez discusses her social media hiatus, attributing it to her breakup and self-comparisons on Instagram. Learn more about her candid insights in this revealing interview.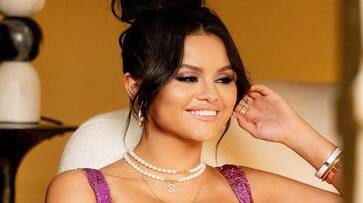 Selena Gomez recently shared insights into her past decision to take a hiatus from social media a few years ago. She revealed that her breakup with Justin Bieber and the pressure of constantly comparing herself to others online played significant roles in her choice. In an interview with Fast Company, Selena candidly expressed her emotional state at that time, stating, "I had just gotten my heart broken. I didn't need to see what everyone was doing. Then there were those moments of not feeling positive about how I looked because of what I'd see on Instagram. Wow, I wish my body looked like that."
However, Selena has since returned to the social media landscape. During the same interview, she addressed fans' observations that she had accidentally unfollowed Dua Lipa on Instagram, explaining, "It was an accident! I was just cleaning up some of my Instagram. Then somebody called me and was like, 'What happened with Dua?!'"
When asked about her perspective on whether it might be beneficial for people to reduce their online presence, Selena offered her viewpoint: "All I would say is, 'Every choice you make is yours. At the end of the day, you have to be proud of it. If it ends up being a mistake, it's your mistake to learn from. Take a lesson from that. Does it make you feel good? Does it not? Evaluate and get to know yourself as much as you can.' But I would never say don't do something, because I don't live with regrets. I can relate to a whole sea of beautiful human beings, because I've walked through some really tough moments, and now I'm on the other side."
Selena Gomez has also been remarkably open about her health journey. She was diagnosed with Lupus in 2014 and later discovered her bipolar disorder in 2018. Despite concerns about sharing her health condition in the entertainment industry, she decided to speak openly about it. In an interview with Fast Company, she reflected on her past tendency to be a people-pleaser, saying, "I grew up being a people pleaser… I had a responsibility at a very young age—young people were looking up to me. I didn't know who I was. Having that responsibility would make me walk on eggshells a lot. I thought maybe it would be damaging to tell people who I am. It started to become a threat that freaked me out. Well, if you're not right, then you can't work."
ALSO READ: Suhana Khan terms parents Shah Rukh Khan, Gauri Khan as 'biggest source of guidance'
Last Updated Oct 5, 2023, 1:10 PM IST