RJ Malishka grooves for Olympic gold medalist Neeraj Chopra, netizens fume for making him 'uncomfortable'
RJ Malishka Mendonsa danced for Olympic gold medalist Neeraj Chopra, and it did not go well with the netizens. Twitter users call it 'cringy' and unprofessional.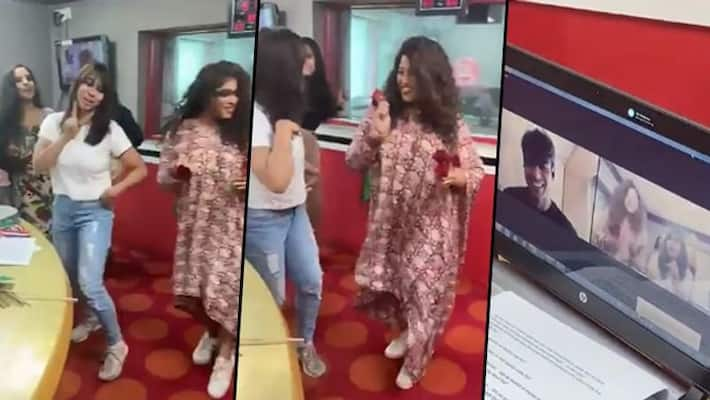 Mumbai: Olympic Gold Medalist Neeraj Chopra has been busy with back-to-back interviews post winning a gold medal at Tokyo Olympics. The athlete is making public appearances and interacting with his fans and fellow citizens.
Now, on Thursday, radio jockey RJ Malishka Mendonsa invited controversy after she interviewed Neeraj Chopra and later ended up dancing for him while asking for 'Jadu ki jhappi'. 
In an exclusive interview, RJ Malishka Mendonsa was seen putting a dance show for Chopra. Netizens pointed out that Chopra looked 'uncomfortable', but the ladies did not stop with their dance performance. Netizens are fuming and calling out RJ Malishka Mendonsa for her unprofessional behaviour. Many sensed that Chopra was smiling 'awkwardly during the dance skit.
RJ Malishka Mendonsa shared the video on her Twitter account, and in no time, she sparked the controversy with Twitter users lashing her for being extremely 'cringy'.
After the dance performance, RJ Malishka Mendonsa even asked 23-year-old Neeraj Chopra for a virtual hug on behalf of the entire nation, while uncomfortable Neeraj Chopra responsed with a gesture of 'Namaste'.
After the clip of the incident went viral, users labelled it as a 'cheap stunt'. One user called her for making him feel uncomfortable, while another pointed out how Red FM is allowing her to do all this.
Before this interview, even Times Now journalist, Navika Kumar was trolled by the netizens for asking personal questions to the Gold Medalist on National Television. She asked him about his relationship status. Netizens labelled her as 'gossip aunty'.
Last Updated Aug 20, 2021, 1:18 PM IST