Rashmika Mandanna ban in Kannada film industry? Kiccha Sudeep reacts to this rumour and more
Kiccha Sudeep has spoken out on Rashmika Mandanna being banned, blacklisted from the Kannada film industry for her comments about Rishab Shetty's Kantara.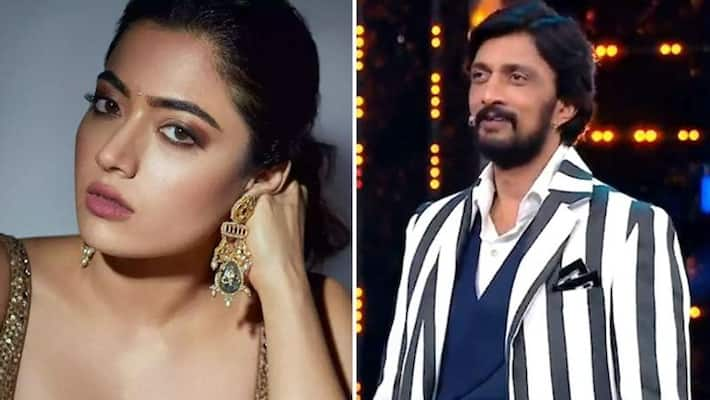 Kiccha Sudeep, the star of Vikrant Rona, has responded to rumours that the Kannada cinema business banned Rashmika Mandanna after she received widespread criticism for claiming she didn't see Kantara. Rashmika was accused of losing her Kannada origins after achieving success in the Telugu, Tamil, and Hindi film industries.
While Rashmika denied such rumours at a recent function, Kiccha Sudeep finally spoke out about the uproar.
When questioned about his stance on the controversy and if it was blown out of proportion, Sudeep stated, "It is what it is. How can you make a difference in the world? If you go back 15-20 years, there were news networks interviewing us and everything was brand new at the time. But, throughout Dr Rajkumar sir's time, there was nothing but Doordarshan and newspapers. So, how can you argue they were better now that media exists? It is incorrect to assert that everything is going wrong as a result of media reports. We must learn to deal with it. We must always progress. And, once you become a public figure, there will always be garlands, as well as eggs, tomatoes, and stones.
Kiccha Sudeep said, "I think we should learn to confront it and become stronger," an apparent dig at Rashmika. When we know this is going to happen, I believe we will all be more polished in terms of what we say, how we say it, and what we are intended to say. You want to create a Facebook and Twitter account with 2 or 10 million followers, but you don't want this terrible thing? Really?"
Also Read: Twitter suspends Kantara star and activist Kishore Kumar G- read report
Meanwhile, Rashmika Mandanna addressed the current issue surrounding her alleged difficult connection with Rishab Shetty, who rose to national prominence following Kantara's phenomenal success. "I just have feelings for them. I'm not sure what else I should say about it. It's up to them," Rashmika said to the media in response to a query about being exposed to trolling for not seeing the film.
Also Read: Allu Arjun's Pushpa: The Rise takes Russia by storm- read details
"I was asked if I had seen the picture within two or three days of its release. I hadn't seen it before. "When I viewed the film, I messaged the crew (Kantara), and I also received a wonderful 'thank you' in response," she had said.
 
Last Updated Jan 3, 2023, 11:05 AM IST