Prabhas bonds with Suriya over delicious home-cooked food; here's what Jai Bhim has to say
Suriya was blown away by Prabhas' generosity and described how he enjoyed tasty home-cooked cuisine from Baahubali star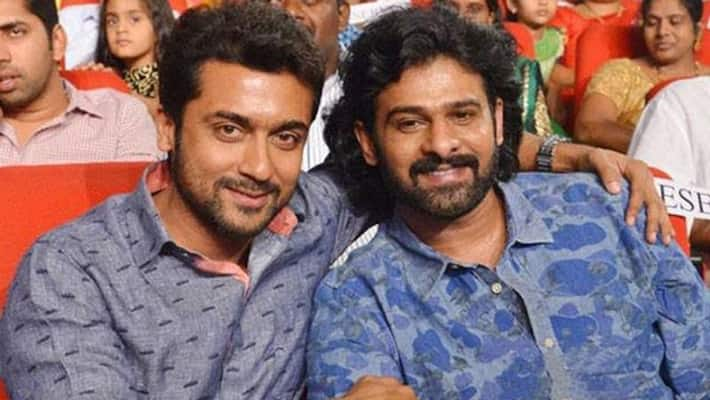 Prabhas, an all-Indian celebrity, is known for providing his co-stars with wonderful home-cooked meals. Whether pampering Shruti Haasan on the Salaar set or providing Amitabh Bachchan with home-cooked meals while filming Project K, Prabhas has always won his co-stars over with his warmth and compassion.
When the actor never misses an opportunity to show his affection to his crew and co-stars, Suriya recently had the good fortune to experience the same gesture while they were on set. Suriya was heard talking about how shocked he was when Prabhas invited him over for supper and brought food from his house during an interview.
Also Read: Gautham Karthik, Manjima Mohan are married now; wedding held in Chennai- see pictures
He shared, "We met in the film city; casually, he mentioned, 'I will wait sir, for dinner tonight; we will have dinner together. My shooting from 6 O Clock happened to become 8, then 10, and almost till 11:30 and I thought ok, formerly I say assume dinner, It's hotel dinner or it will come from the production mess. I will keep meeting Prabhas; maybe tomorrow I can say sorry to him. Then I was walking in the corridor, and his door was opened, and he came out and said 'Sir, I am ready, you take a shower' and I was shocked. It was 11:30 in the night, he didn't have dinner, and he was waiting for me and food was there from his house, he has made his mother cook. I never had such a nice Biryani."
Also Read: Katrina Kaif, Nykaa's founder Falguni Nayar attend wedding in Jodhpur; pictures go viral
Prabhas will be seen in Salaar, which is scheduled for release in 2023, in the meanwhile. Additionally, there is Adipurush, in which Prabhas will appear with Kriti Sanon and Saif Ali Khan, "Project K," starring Amitabh Bachchan and Deepika Padukone, and "Spirit" by Sandeep Reddy Vanga.
Last Updated Nov 28, 2022, 4:25 PM IST