Navratri 2023 Day 6: Details on Ma Katyayani and Puja Significance
Ma Katyayani is worshipped on the 6th day of Navratri, symbolizing strength and courage. Devotees seek her blessings to overcome obstacles and challenges. Red is the auspicious color, and rituals include fasting, prayers, and offering honey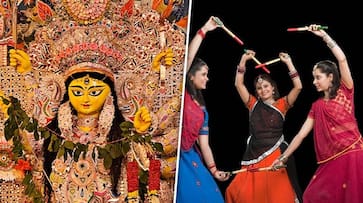 Navratri is a Hindu festival that spans nine nights and is dedicated to the worship of the Goddess Durga in her various forms. Each day of Navratri is associated with a different form of the goddess, and on the sixth day, Ma Katyayani is worshipped. Here are the details on Ma Katyayani and the significance of her worship during Navratri:
Ma Katyayani:
Ma Katyayani is the sixth form of Goddess Durga. She is often depicted as a warrior goddess with four arms, riding a lion. She is known for her fierce and powerful persona.
Puja Significance:
The worship of Ma Katyayani is particularly significant for those seeking courage, strength, and protection. She is believed to bless her devotees with the strength to overcome obstacles and challenges.
Day 6 of Navratri:
On the sixth day of Navratri, devotees wake up early and perform a ritual bath. Afterward, they offer prayers to Ma Katyayani with devotion.
The color associated with the sixth day of Navratri is red, which is considered auspicious for this day. Devotees often wear red clothing and offer red flowers and other red items as offerings.
It is common to offer honey as a part of the prasad (offering) to Ma Katyayani.
Puja Rituals:
The puja rituals for Ma Katyayani include reciting her mantras and performing aarti (a ritual of waving a lit lamp in front of the deity). Devotees often offer hibiscus flowers, vermillion (sindoor), and red chunri (cloth) to the goddess.
Fasting is a common practice on the sixth day of Navratri. Some devotees observe a strict fast, consuming only one meal in the day, while others opt for a fruit or milk diet.
Some people also perform special havans (fire rituals) to seek the blessings of Ma Katyayani.
Significance of Ma Katyayani's Worship:
Worshiping Ma Katyayani is believed to cleanse the mind and body and bestow courage, strength, and protection upon the devotee.
It is said that she removes the negative influences and obstacles from one's life and grants them the ability to face challenges with determination and confidence.
Ma Katyayani's lion represents power, and her weapons symbolize her ability to protect her devotees from harm.
Devotees seek Ma Katyayani's blessings to lead a life free from fear and full of strength. This day of Navratri is a reminder of the importance of standing up against adversity and harnessing inner strength to face life's battles.
Last Updated Oct 20, 2023, 9:31 AM IST