Is Zareen Khan in trouble? Kolkata court issues arrest warrant against actress in cheating case
An arrest warrant has also been filed against the actress and her former manager, with whom the event management business coordinated the situation, according to a municipal police officer informed of the development.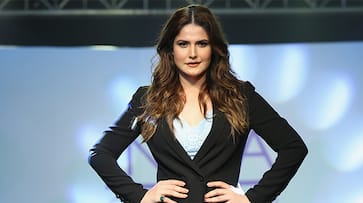 On Sunday (September 17), the Kolkata (Sealdah) court issued an arrest warrant for Bollywood actress Zareen Khan on accusations of alleged cheating on a city-based event management firm in 2018. The arrest warrant was issued in response to the charge sheet filed by the investigating officer in the event management company's complaint against her for failing to attend a concert planned in Kolkata in 2018 despite being paid Rs 12 lakh in advance for her appearance costs at a famous Kali Puja pandals.
An arrest warrant has also been filed for the actress's former manager, with whom the event management business coordinated the investigation, according to a local police officer informed of the situation.
Zareen has agreed to participate in a function celebrating a religious festival with the event management business.
Also Read: Allu Arjun shares adorable picture with son Allu Ayaan; says "Dad & son time"
According to reports, the actress rejected notices to appear in court one after the other. Finally, the court issued a warrant for her arrest. Zareen has not filed for bail or appeared in court. According to India Today, the court was obligated to issue the arrest order due to her recurrent absences.
Zareen Khan, on the other hand, voiced her confusion and stated that the charges were false. "I'm certain this isn't true. I, too, am astonished and am consulting with my attorney. Only then will I be able to offer you some clarification," the actor was reported as saying by India Today.
During the initial interrogation, Zareen Khan stated that the organisers had misled her, claiming that the event would be attended by Bengal's chief minister and numerous notable politicians.
Also Read: Does Alia Bhatt's car gets mobbed by group of women?

About Zareen Khan:
Zareen Khan, who made her Bollywood debut opposite Salman Khan in 'Veer', has acted in several films across multiple languages, including 'Housefull 2' and '1921'. Her most recent film performance was in Harish Vyas' 'Hum Bhi Akele Tum Bhi Akele', which was released in 2021.
Last Updated Sep 18, 2023, 8:27 AM IST