India vs Pakistan 2023: Actor Shiva Rajkumar promotes his movie 'Ghost' amidst high-voltage match
Sandalwood actor Shiva Rajkumar, promoting his film 'Ghost,' took a break to enjoy the India-Pakistan cricket match's excitement and encouraged fans to watch it on Star Sports Kannada. The highly anticipated film premieres on October 19.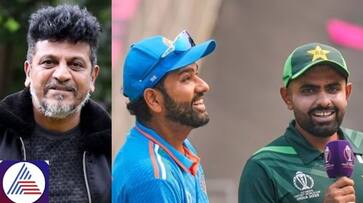 Sandalwood actor Shiva Rajkumar has been fervently promoting his eagerly awaited film 'Ghost.' In the process, he met with fellow actor Kamal Haasan, who is equally immersed in promotional activities for the movie, especially in foreign markets. Amidst all this, Shiva Rajkumar is also gearing up to catch the adrenaline-pumping India-Pakistan cricket match, further amplifying the excitement of fans eagerly anticipating his film's release.
With 'Ghost' set for its highly anticipated premiere on October 19, Shiva Rajkumar managed to find time to revel in the high-voltage cricket showdown between India and Pakistan. He used social media to express his enthusiasm for the match, encouraging fans to partake in the festivities. 

India Vs Pakistan 2023: Salman Khan urges Shubman Gill to play best shot in World Cup - Know Details
He underscored the significance of the cricket clash, a spectacle captivating not only Indian and Pakistani sports enthusiasts but also drawing global viewers into its thrall.
Furthermore, Shiva Rajkumar is scheduled to make an appearance on the Star Sports Kannada program 'Cricket Live,' where he extends a warm invitation to fans, urging them to tune in to Star Sports 1 Kannada for what promises to be an exhilarating contest. He advises viewers to gather with their families and friends to relish the match on Star Sports Kannada.
Last Updated Oct 14, 2023, 4:14 PM IST