India Vs Pakistan 2023: Salman Khan urges Shubman Gill to play best shot in World Cup - Know Details
Today, all cricket fandom, enthusiasts and even Bollywood celebrities are thrilled and excited for the legendary India Vs Pakistan match. Salman Khan is also thrilled and excited for India Vs Pakistan World Cup Match. Salman Khan had words of motivation for Shubman Gill as he takes on the epic clash at Ahmedabad - the India Vs Pakistan CWC match.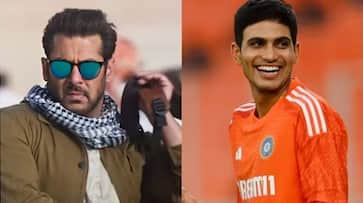 Salman Khan is also super excited about the India Vs Pakistan World Cup 2023 match. On Saturday afternoon, the 'Tiger' of Indian cinema and the global icon of Bollywood joined the commentary area of the stadium. Ahead of the match, there was encouraging news for India as young opener Shubman Gill hit the nets at the Narendra Modi Stadium. It happened just hours after his arrival in the city on Wednesday. Gill spent an hour at the nets, supported by specialized throwdown experts in Motera, even as the rest of the team arrived later in the day.
ALSO READ: India Vs Pakistan 2023: Salman Khan cheers up Indian team by saying 'Stadium Ke Bahar Maaro'
On Thursday morning, Shubman Gill engaged in an exclusive batting session in Motera, marking his return to the field since recovering from dengue. He also participated in fielding drills. Team doctor Rizwan closely monitored Gill as he kickstarted the training session with sprints and strides.
For Shubman Gill dubbed the prince of Indian cricket, Tiger had some encouraging words. He said, "Shubman should play. I shot the climax of Kisi Ki Bhai Kisi Ka Jaan when I had both COVID-19 and Dengue. He is young also. I think he should play."
During a fun round, Salman dubbed Virat Kohli Chulbul Pandey/Dabangg and Rohit Sharma Bajrangi Bhaijaan.
For the unversed, Yash Raj Films has collaborated with the broadcast network Star Sports for a never-been-done marketing association to promote Tiger 3. A renowned trade source earlier this week disclosed, "Tiger's roar will be audible throughout the cricket World Cup because the makers have cracked a never-been-attempted marketing association that will see YRF promote Tiger 3 across all India games and also all key matches of this prestigious global ODI cricket tournament."
Tiger 3 marks the third film in YRF Spy Universe. Tiger 3 is directed and helmed by ace filmmaker Maneesh Sharma, while noted Bollywood film producer Aditya Chopra has written the storyline. While fans are eager to see Tiger and Zoya (played by Katrina Kaif) reunite on the big screen, many are excited and pumped up to witness a cameo of Pathaan in the film. It is being said and reported that Shah Rukh Khan will make a special appearance in Tiger 3 in the same way that Tiger appeared in Pathaan. However, details about the cameo of SRK in Tiger 3 are still under the curtains and tight wraps.
ALSO READ: Leo: Trisha's salary in Vijay's latest film will blow your mind; read on
Last Updated Oct 14, 2023, 3:24 PM IST