Rahul Dravid takes center stage in KL Rahul's Himalayan river adventure (WATCH)
After their triumph in the Cricket World Cup 2023, the Indian cricket team is unwinding with mountainous escapades, including icy river plunges. KL Rahul's photos of their Himalayan adventure feature head coach Rahul Dravid.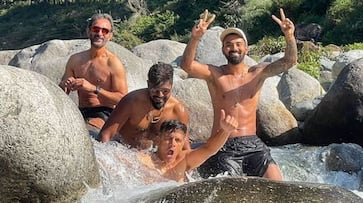 Following their victory over New Zealand in the Cricket World Cup 2023, the Indian cricket team is relishing some leisure time. Their upcoming match against England is slated for October 29. Amidst the mountainous landscapes, Indian players and support staff have been exploring the outdoors, including ice-cold Himalayan river baths. India's KL Rahul shared a series of pictures from their adventure, featuring head coach Rahul Dravid and batting coach Vikram Rathour taking a dip in the river.
The HPCA Stadium in Dharamsala hosted India's last World Cup match, and it's undeniably one of the most scenic cricket venues globally. While their next assignment awaits in Lucknow, it appears that some players are still savoring the beauty of Dharamsala.
In the pictures shared on social media, KL Rahul captions the experience with, "Nothing beats nature's ice dip." Notably, one of the images distinctly captures Dravid thoroughly enjoying the adventure.
Prior to this, Dravid embarked on a trekking expedition with India's support staff to Triund, a location near Dharamsala. Dravid shared in a BCCI video, "Superb view coming here after Triund, just getting here up the mountains and climbing it is a challenging trek, I must admit it. Unfortunately, we can't bring the boys up here; it is too risky walking on the stones, but hopefully, when one of the days the boys are not working, they get to experience this."
Vikram Rathour, India's batting coach, also expressed his thoughts on the experience, stating, "When you are climbing up, the last trek is a little tricky, the last half-hour is hard, but the moment the view opens up, it is worth it."
With a few more days of relaxation on the horizon, the Indian players will soon head to Lucknow for an eagerly awaited showdown against defending champions England.
Also Read: Amol Muzumdar named head coach of Indian women's cricket team
Last Updated Oct 25, 2023, 9:42 PM IST