Beyoncé might outshine Taylor Swift's Eras Tour? Here's what reports say
Beyonce's Renaissance World Tour is likely to create new records. Continue reading to find out if she will surpass Taylor Swift's Eras Tour triumph.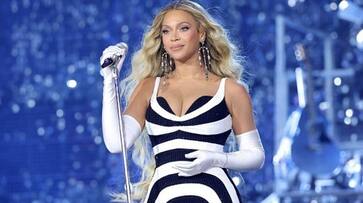 The Renaissance World Tour by Beyoncé is reinventing history! The music sensation appears to be aiming for yet another record-breaking conquest, this time against Taylor Swift. She's not only breaking her own records, but she's also taking over Taylor Swift's Eras Tour. Each concert stop has made news throughout the world, from her eye-catching attire to Blue Ivy's presence on stage. When it comes to breaking records, Beyoncé does it in style. The music powerhouse is reaffirming her status as a pop icon. Queen Bey is on the verge of breaking Taylor Swift's tour record with her Renaissance World Tour.
ALSO READ: Jacqueline Fernandes gets romantic letter from conman Sukesh Chandrasekhar on birthday; here's what he said
With her Renaissance World Tour, Beyoncé's legacy of shattering records continues. The tour's European leg, which included 21 incredible gigs, earned a whopping $154.4 million in revenue and drew a million fans. But the stats don't end there; experts anticipate the tour may gross $415 million, with 2.8 million tickets sold. These figures, while astounding, may not even constitute the final curtain call. If everything goes as planned, Beyoncé may earn a whopping $2.1 billion. And with that, the Renaissance Tour is laying the groundwork for massive success. 
Taylor Swift's Eras Tour was a huge hit. Gross ticket sales are expected to exceed $1 billion. According to Pollstar, the first 22 performances of the tour alone pulled in more over $300 million. The tour has garnered an amazing 1.1 million attendees thus far, with an average ticket price of roughly $253, or Rs 20,000, and selling over 54,000 tickets per concert. After deducting taxes and expenditures, the singer's net revenue from the Eras tour is estimated to be over $30 million.Is Beyoncé poised to dethrone Taylor Swift? The only way to know is to wait and see. In a word, Queen Bey's reign is still going strong, and she shows no signs of slowing down. It's evident that Beyoncé and Taylor Swift are both making history in their own unique ways. Fans can't help but support their favourite musician.
ALSO READ: 'Adipurush' OTT release: Know WHERE to watch Prabhas-Kriti Sanon starrer
Last Updated Aug 11, 2023, 11:49 PM IST