'Barbie' takes down Marvel's 'The Avengers,'; Ranks 11th highest-grossing film
Barbie," directed by Greta Gerwig, surpasses "The Avengers" domestically with $626M, becoming the 11th highest-grossing film. Globally, it earns $1.4B, addressing societal issues and marking a milestone for female directors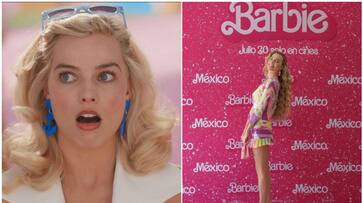 Greta Gerwig's directorial masterpiece, "Barbie," continues its triumphant journey at the box office, dethroning the 2012 blockbuster "The Avengers" to become the 11th highest-grossing movie of all time in the domestic market. With a domestic box office collection of an impressive $626 million, "Barbie" outshone "The Avengers," which had amassed $623 million.
Since its release on July 21, the film, featuring the stellar duo of Margot Robbie and Ryan Gosling, has captivated audiences and generated substantial buzz. Despite facing stiff competition from Christopher Nolan's "Oppenheimer" and receiving mixed reviews, "Barbie" has demonstrated its enduring appeal, particularly among US viewers.
"Barbie" now finds itself in the spotlight once more, having crossed the $600 million mark at the domestic box office after nearly two months in theaters. This achievement catapults the film into the 11th spot among the highest-grossing films domestically.
To enter the coveted top 10, "Barbie" must surpass the 2015 blockbuster "Jurassic World," which grossed $653 million and secured the 10th position. In the current top 10, "Titanic" holds the 9th spot with $674 million, followed by "Avengers: Infinity War" at 8th place with $678 million and "Avatar: The Way of Water" at 7th with $684 million. The top position is held by "Star Wars: Episode VII - The Force Awakens," which raked in an astonishing $936 million, according to People magazine.
On the global stage, this comedy fantasy drama has achieved remarkable success, amassing $1.4 billion in total earnings, surpassing the $1.35 billion collection of "The Super Mario Bros Movie," which was released on April 7. "Barbie" now stands as the 14th highest-grossing global release of all time, trailing behind "Frozen 2" and "Top Gun: Maverick," as reported by Variety. An additional feather in its cap is the record-breaking achievement of having the biggest opening weekend for a film directed by a woman.
In "Barbie," Margot Robbie and Ryan Gosling portray the iconic characters of Barbie and Ken. The film follows their journey from the dreamy Barbieland to the real world, where they encounter challenges and experiences that explore themes such as matriarchy, patriarchy, motherhood, self-validation, and objectification, shedding light on pertinent societal issues. The star-studded cast also includes Issa Rae, Kate McKinnon, Alexandra Shipp, Emma Mackey, Sharon Rooney, Ana Cruz Kayne, and many others in pivotal roles.
ALSO READ: Vaishakh's 'Bruce Lee' hits pause; Unni Mukundan reveals the Reason; Read to know more
Last Updated Sep 20, 2023, 10:40 AM IST