Akshay Kumar turns 56: Actor visits Mahakaleshwar temple with cricketer Shikhar Dhawan (Video)
On September 9, Akshay Kumar turned 56 years old. He did 'bhasma aarti at Mahakaleshwar's Jyotirling temple in Ujjain alongside cricketer Shikhar Dhawan.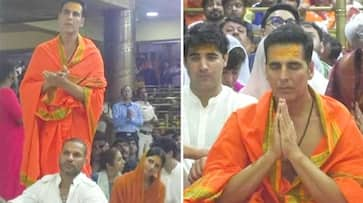 Today, September 9, marks Akshay Kumar's 56th birthday. To celebrate the occasion, Akshay and his family visited the Jyotirling shrine of Baba Mahakaleshwar in Ujjain to seek blessings. Shikhar Dhawan, a cricketer, was also present. Both actor and cricketer performed the bhasma aarti of Lord Mahakal early in the morning.
Akshay arrived with his sister, niece, and son. Shikhar was joined by his family as well. The actor and the cricketers arrived at the temple right from the airport and proceeded to Shri Mahakal Lok after doing bhasma aarti. In an interview with the media, Akshay stated that the country should continue to flourish with Baba's blessings. Shikhar Dhawan thanked God for summoning us here and accepted his blessings.
In the viral video, Akshay can be seen in a saffron dhoti and folding his hands during the Aarti at Mahakaleshawar Temple. In another video, the cricketer Shikhar Dhawan can also be spotted wearing a white kurta and attending the Aarti. 
Soon after the video went viral, the actor's followers gathered on social media to wish him a happy birthday and respond to the footage. One fan wrote, "Man of classes and Masses. HBD KHILADI KUMAR." Another user wrote, "Happy Birthday To The One And Only AKSHAY KUMAR."
Akshay Kumar was most recently seen in OMG 2, where he played Lord Shiva. The film, which co-starred Pankaj Tripathi and Yami Gautam, competed with Sunny Deol's Gadar 2 at the box office and reached the Rs 100 crore club. The film's total profits are believed to be Rs 211.14 crore. 
The actor, also known as Khiladi Kumar, revealed his upcoming film, Mission Raniganj: The Great Bharat Rescue, ahead of his birthday. The film, which also stars Parineeti Chopra, Kumud Mishra, Pavan Malhotra, Ravi Kishan, and Rajesh Sharma, is based on the Raniganj Coalfields collapse in West Bengal in 1989. The film, directed by Tinu Suresh Desai, will be released in theatres on October 5. The teaser has already been released by the creators. 
Last Updated Sep 9, 2023, 11:34 AM IST