'I Love You': Shah Rukh Khan's bromance with Jawan co-star Vijay Sethupathi wins hearts
At the Jawan success press meet, Atlee also shared that if he were to describe the film, he would call it his 'love letter' to Shah Rukh Khan. Shah Rukh Khan depicted his love for co-star Vijay Sethupathi has won the hearts of netizens.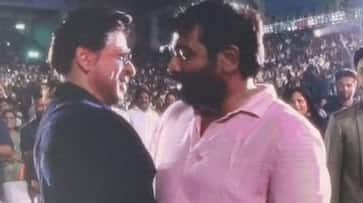 Love was in the air when Jawan director Atlee and actor Vijay Sethupathi joined Shah Rukh Khan at an event on Friday (Sept 15) to celebrate the success of Jawan and went on to proclaim their admiration for the Bollywood superstar. The Tamil filmmaker, who made his Hindi cinema debut with the blockbuster film, said if he had to describe Jawan, he would call it a love letter of himself to Mr SRK. Kaali, played by Vijay Sethupathi, may have been the chief antagonist in the film, but the actor was full of praise for the director, the team and especially for Shah Rukh. He said he got many calls from people in Chennai, saying they could not get tickets for the first day, the first show of the movie.
ALSO READ: Ashton Kutcher, Mila Kunis resign from 'Thorn'; apologizes for character letter to Danny Masterson
Explaining love for SRK, Vijay Sethupathi said, "They love him so much. Then it is not a surprise for me because the name of SRK is enough. Everybody loves him so much. The way he behaves and the way he treats people, he only gives love. If somebody has written SRK, you can go and hug his name. I love you, sir."
Shah Rukh shouted back, saying, "I love you back more. After this press conference, if I propose to you, we may marry now, sir." Sethupathi continued the banter, saying, "Nothing wrong, sir."
Atlee, who has worked on Tamil blockbusters such as Mersal, heri and Bigil with superstar Thalapathy Vijay in the South, said he did not have the formula to strike the right balance.
Talking about his approach to a scene, Sethupathi said he tried to understand the vision of Atlee as he loves his films. Vijay shared, "Shah Rukh sir gives so much energy. One day, we were shooting. He is a big man with a big heart. I have some ideas. I tried it. I am like, sir, I am sorry. He is like, Do it. So, that gives confidence. He is a person I love and respect. Him saying that you are doing good that gives you confidence."
ALSO READ: Ranveer Singh's reaction to Deepika Padukone kissing Shah Rukh Khan on cheeks is heartwarming
Last Updated Sep 16, 2023, 12:28 PM IST