Ashton Kutcher, Mila Kunis resign from 'Thorn'; apologizes for character letter to Danny Masterson
Ashton Kutcher resigns as Thorn's Chairman amid backlash for supporting Danny Masterson, apologizes to sexual assault survivors, and vows continued support for child exploitation fight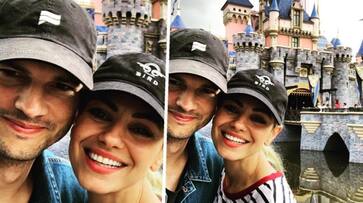 Ashton Kutcher has stepped down from his position as Chairman of the Board of co-founder of Thorn, an organization dedicated to combating child sexual abuse. This move has sent shockwaves through the advocacy community, sparked by a letter published by TIME. The reason behind this decision stems from the public backlash following Kutcher and his wife, Mila Kunis, expressing support for actor Danny Masterson, who was found guilty of raping two women. In a letter dated September 14th, Kutcher expressed remorse for his actions and acknowledged the pain his endorsement had inflicted on survivors of sexual assault while advocating for their rights.
In his resignation letter, which TIME shared, Kutcher openly admitted the historical silencing of sexual abuse victims, stating, "Victims of sexual abuse have been historically silenced, and the character statement I submitted is yet another painful instance of questioning victims who are brave enough to share their experiences."
According to the TIME-published letter, Ashton Kutcher made this difficult decision after extensive reflection and discussions with survivors, employees, and Thorn's leadership. He emphasized his belief that stepping down was the responsible and necessary course of action, ensuring that his "error in judgment" would not divert attention from Thorn's vital mission in combating child sexual exploitation.
Kutcher extended a heartfelt apology in the letter to all victims of sexual violence and to Thorn's dedicated team. He also expressed remorse to the broader advocacy community, stating, "The mission must always be the priority, and I want to offer my heartfelt apology to all victims of sexual violence and everyone at Thorn who I hurt by what I did."
Furthermore, he addressed the broader advocacy community, saying, "I am deeply sorry. I remain proud of what we have accomplished in the past decade and will continue to support Thorn's work. Thank you for your tireless advocacy and dedication to this cause."
How the Controversy Unfolded
The controversy ignited when Ashton Kutcher, Mila Kunis, and other former cast members of well-known TV shows penned letters in support of Danny Masterson during his sentencing proceedings. In his letter, Kutcher praised Masterson, describing him as an "extraordinarily honest and intentional human being" and highlighting Masterson's positive influence on his own life. However, Masterson was ultimately sentenced to 30 years to life in prison.
Criticism of Kutcher was particularly severe due to his prominent role as an advocate against child sex trafficking. As reported by TIME, he testified before the Senate Foreign Relations Committee in 2017, shedding light on the disturbing issue of online child abuse he encountered in his work with Thorn. Furthermore, he raised over a million dollars for the organization through his participation in the 2022 New York City Marathon, reflecting his heartfelt commitment to assisting child victims (as reported by PEOPLE).
In an attempt to address the controversy, Kutcher and Kunis released a video explaining that their support for Masterson was intended to help a friend and not meant to discredit or retraumatize rape victims, as reported by TIME. Nevertheless, their apology fell short for many, with one victim expressing disappointment and calling for "radical accountability."
ALSO READ: Rishabh Shetty's 'Kantara' prequel to be made on budget more than its first part
Last Updated Sep 16, 2023, 11:56 AM IST