Interview: Media fabricating stories to attack me, says Chandy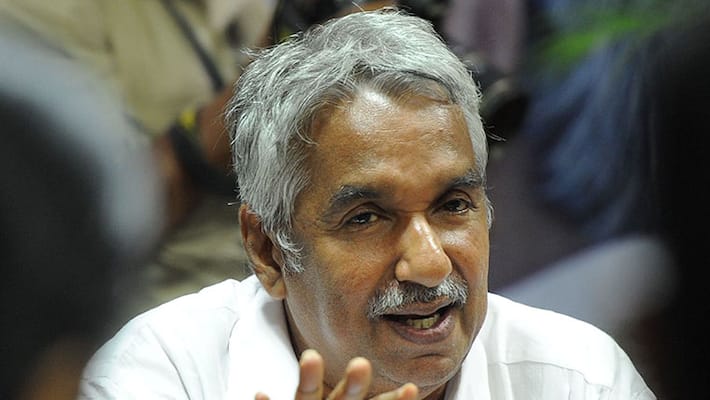 Desperate to wrest power, the CPM may have struck a secret deal with the BJP, he says in an interview with Sindhu Sooryakumar,  Asianet News Chief Coordinating Editor. Excerpts.
SS: Do you think communal and caste polarisation is high this time around?
OC:  No, Kerala has never gone beyond politics. There are certain factors (in play)  but they can't be decisive in this elections. It will only reflect in the elections if voters get influenced by it.  I still believe that people of Kerala are driven by politics and not by caste or religion.
SS: So do you feel there is a third front in their thoughts, other than UDF and the LDF?
OC: The BJP is also contesting...but so far they have not been able to open an account. They made major gains in the local body elections and are hopeful of getting better results this time. But the BJP can never win over the minds of Keralites with their agenda. Keralites have always stood against religious factionalism. 
SS: The CPM has been relentlessly alleging that the BJP can open an account in Kerala only if Congress helped it. 
OC: Actually, in India the fight is between the Congress and the BJP. Narendra Modi is exhorting 'Congress-Mukth Bharat', a dream which will never be realised. The BJP is targeting top party leaders like Sonia Gandhi and Rahul Gandhi. In such circumstances, how can Congress have a liaison with BJP? 
There may be a hidden alliance between the Marxists and BJP because the Marxist are desperate to regain their power and the BJP is seeking to open an account. When the CPM general secretary was in the state he unleashed a tirade against the BJP. But look at what they have done in Bihar where they fielded candidates against the Grand Alliance and divided votes in every constituency. It helped the BJP to win at least ten seats.  If they had not split the secular votes, the BJP would have been thoroughly defeated in Bihar. 
SS: Don't you think the war of words between you and VS Achuthanandan is getting personal? 
OC: No, these are all media hype. A lot of other political issues are also discussed in this elections. One among them is 'development.' Both BJP and the Marxist party are not keen to raise it. BJP is trying to create a rift in the society by disturbing religious harmony, whereas, the Marxist party's ideology is based on violence. Many of its leaders are accused in murder cases.
The Congress neither entertains religious divide nor political violence. We envisage development. We have garnered good support from people. Look at the parliamentary elections or the by-elections. In all the elections, the people have supported us. 
There is a widespread feeling that in the local body elections, the LDF secured a lead; It is not true. In the district panchayat and the municipal corporations, both UDF and the LDF are neck and neck. Yes, in the village panchayat we couldn't get the desired results due to rebels and factional feuds.  But in the past five years, we were able to display good governance. 
SS: Even though the CPM leaders are raising corruption allegations against UDF ministers, most of them are targeted at you. 
OC: We're not in a defensive mode and we have more faith in our strengths. We are facing elections as a single party. Across all 140 constituencies, UDF candidates are contesting in their party symbols. But look at the LDF - they are fielding candidates who are no way related to the parties in the front and most of them are independents. 
The LDF is accusing us of seeking the help of BJP to win elections. But we're only asking for people's support. 
SS: You have received brickbats for anti-environmental policies and some orders in the last leg of your ministry.
OC: The media distorted many of those (orders). Did you go through any of those orders? Did we allow an inch of land to be filled? The media is misinforming the public. 
In the order giving in-principle sanction for the Metran Kayal project, we clearly stated that it will be subjected to the Kerala Conservation of Paddy Land and Wetland Act, 2008 and environmental clearance. 
Also read: Exposed! Chandy, Jiji Thomson pressed for controversial projects
SS: If so, why did you scrap those orders? 
OC: It is elections and we have to convince people. You check those orders and see if we have given sanction against the existing rules. 
Karuna Estate issue was also a similar case. The decision to allow them to remit tax was taken after the Revenue and Tax departments recommended so. In the order, it was clearly mentioned that it will be subject to court order. In the wake of protests, we decided to wait till the court delivers a verdict. Media don't study things.
SS: Yes, we don't. But the state Congress Chief also came out against the order.
OC: He gave a letter and we have taken a decision after examining it. They (media reports) have nothing to do with the truth. Earlier, journalism was more authentic. Now even if a story went wrong, nobody bothers to correct. 
SS: Why are you so upset with media?
OC: Please don't push me.... I may have to mention Asianet as well. What if I said that a letter was forged to attack me? The truth cannot be hidden for long.
SS: The UDF seems to be hopeful of returning to power. Will the victory be of huge margin?
People have accepted the policies and programs of government in the past five years. So there is no anti-government wave. Most importantly, the unity within UDF is the basis of my confidence.  
Watch Full interview (Malayalam)
Last Updated Mar 31, 2018, 6:49 PM IST