ODI World Cup 2023: BCCI says there will not be any fireworks display in Mumbai matches
In a bid to address environmental concerns and deteriorating air quality in Mumbai, the BCCI has decided to forgo fireworks displays following matches. Honorary Secretary Jay Shah emphasized the BCCI's commitment to combatting environmental issues and safeguarding the interests of fans and stakeholders.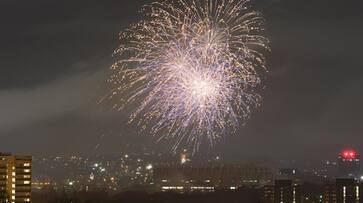 The Board of Control for Cricket in India has announced that there would not be any fireworks display in Mumbai after the match. In a statement, Jay Shah, Honorary Secretary of BCCI, said: "The BCCI is sensitive to environmental concerns. I took up the matter formally with the ICC and there won't be any fireworks display in Mumbai, which can add to the pollution level. The Board is committed to combating environmental issues and will always place the interest of our fans and stakeholders at the forefront."
The air quality index (AQI) in the city has significantly deteriorated as the monsoon season came to an end. Mumbai has been experiencing a wide range of AQI readings, ranging from 'poor' to 'very poor' and even 'severe,' with only a few instances of 'moderate' AQI recorded in recent days.
Even Indian cricket captain Rohit Sharma expressed his astonishment when he observed Mumbai's polluted skyline during a recent flight. While flying to the city for an upcoming World Cup match against Sri Lanka, he was met with a thick blanket of smog. In response, he posted on Instagram, "Mumbai, yeh kya ho gaya (Mumbai, what has happened?)."
Taking note of reports highlighting the poor air quality in the city, the Bombay High Court has initiated a suo motu public interest litigation (PIL). According to The Indian Express report from October 31, government authorities have been directed to outline their action plans to address the issue.
The High Court bench, led by Chief Justice Devendra Kumar Upadhyaya, has called for responses from the Brihanmumbai Municipal Corporation (BMC), Maharashtra Pollution Control Board (MPCB), and the Central Pollution Control Board (CPCB) regarding the steps they have taken in this matter. Mumbai is one of the host cities for matches in the ongoing ODI World Cup. The next game in the city is scheduled for November 2, where India will face Sri Lanka. The Indian team has performed impressively, winning all six games in the tournament and is on the verge of securing a spot in the semifinals.
Last Updated Nov 1, 2023, 10:00 AM IST