PCB accepts Inzamam-ul-Haq's resignation as rift grow between the Pakistan Cricket Board and former selector
Tensions rise as Inzamam-ul-Haq steps down from the Pakistan Cricket Board's selection committee amidst conflict of interest allegations.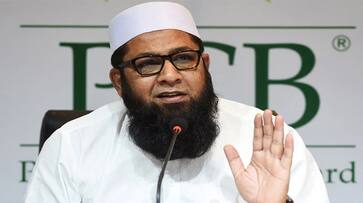 The Pakistan Cricket Board (PCB) has acknowledged the resignation of Chief Selector Inzamam-ul-Haq as tensions escalate between the two. The PCB, in a statement on Thursday, confirmed the acceptance of Inzamam-ul-Haq's resignation amidst allegations of a conflict of interest. As the Babar Azam-led Pakistan cricket team vies for the last semifinal spot in the World Cup in India, the PCB stated that a replacement for the legendary player will be announced soon.
Inzamam voluntarily stepped down from his position on October 30, allowing the PCB to conduct a transparent inquiry into the conflict of interest allegations surrounding his association with a company managing several national team players. The PCB has formed a five-member panel to investigate Inzamam's role in Yazoo International, where he shares the same agent as captain Babar Azam, pacer Shaheen Shah Afridi, and wicketkeeper-batter Mohammad Rizwan.
Despite Inzamam's resignation, he maintained that his ties with agent-and-partner Talha Rehmani never compromised his decision-making as a selector. The PCB emphasized that a fact-finding committee has been established to investigate conflict of interest allegations in the team selection process, with prompt submission of findings to the PCB Management.
Inzamam's resignation had been with the PCB for over a week, raising questions about the sudden acceptance. Relations soured further when Inzamam criticized PCB Chairman Zaka Ashraf for not taking responsibility for the national team's World Cup performance and accused him of running the PCB arbitrarily.
Inzamam, expressing concerns about the chairman's tenure extension, revealed that his lawyers had contacted the PCB for the inquiry, but there had been no response. The PCB and Ashraf insisted that Inzamam would be called for the probe, citing a breach of the board's code of conduct by making public statements.
Despite receiving a salary of Pakistan Rs 2.5 million, Inzamam's role in team selection was disassociated by Ashraf after poor performance in India. The PCB extended Ashraf's tenure along with the cricket management committee for three months. The interim Cricket Management Committee (CMC) has been overseeing the PCB since last December.
Also Read: Shubman Gill's rumoured girlfriend Sara Tendulkar give sneak peak of her Goan food indulgence
Last Updated Nov 9, 2023, 6:56 PM IST