ODI World Cup 2023: Team India arrives in Thiruvananthapuram without Virat Kohli
The Indian cricket team has touched down in Thiruvananthapuram for their warm-up match ahead of the ODI World Cup, but the absence of star player Virat Kohli due to personal reasons has raised eyebrows.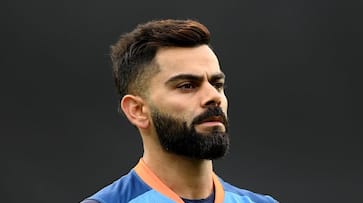 Team India has landed in Thiruvananthapuram, but Virat Kohli is notably absent. The renowned Indian batsman had sought permission from team management due to a personal emergency and had traveled to Mumbai from Guwahati. He is expected to rejoin the Indian team in Thiruvananthapuram on Monday.
A source from the Board of Control for Cricket in India (BCCI) confirmed Kohli's trip to Mumbai for personal reasons, stating that he would rejoin the team soon. This was also confirmed by a team spokesperson. The rest of the team arrived in Thiruvananthapuram after a four-hour flight on a special aircraft on Sunday evening.
As the Indian team arrived in Thiruvananthapuram for their second and final warm-up game against the Netherlands on Tuesday, inclement weather seemed to be trailing them from the far east down to the southern region. Their initial warm-up match against England had to be canceled due to rain, with not a single ball bowled. It wouldn't be surprising if the second game faced a similar fate, considering the possibility of Tuesday's match also being affected by poor weather conditions, either partially or entirely.
On Sunday, Thiruvananthapuram experienced sporadic rainfall, making it uncertain whether the team's scheduled practice session for Monday would take place, contingent on weather conditions. The team's spokesperson mentioned, "Team India will have an optional training session from 2 PM onwards at the KCA - St Xavier's College Cricket Ground, Thiruvananthapuram, weather permitting."
Thus far, three matches have been impacted by rain, including two in Thiruvananthapuram between South Africa and Afghanistan on September 29. The Australia-Netherlands match on September 30 was reduced to a 23-over contest but couldn't be completed. Before India faces the Netherlands on Tuesday, New Zealand and South Africa are set to play on Monday.
India is set to begin their World Cup campaign against Australia in Chennai on October 8, with the championship commencing on October 5 in Ahmedabad with a match between the last World Cup finalists, England and New Zealand.
Also Read: ODI World Cup 2023: Yuzvendra Chahal opens up about his omission from the Indian squad
Last Updated Oct 2, 2023, 12:27 PM IST