ODI World Cup 2023: Yuzvendra Chahal opens up about his omission from the Indian squad
Yuzvendra Chahal, the accomplished leg-spinner of the Indian cricket team, shares his candid perspective on being left out of the ODI World Cup 2023 squad.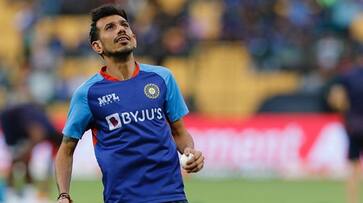 Yuzvendra Chahal found himself excluded from India's ODI World Cup 2023 roster, with the selectors favouring R Ashwin, Ravindra Jadeja, and Kuldeep Yadav instead. Chahal, a prominent leg-spinner, has consistently performed well in white-ball cricket for India in recent years. Since his debut in 2016, he ranks third in terms of ODI wickets for India, trailing only Kuldeep Yadav among spinners. Despite his impressive record, Chahal has missed out on three consecutive World Cups – the T20 World Cups in 2021 and 2022 and now the 2023 ODI World Cup. He was part of the 2022 World Cup squad but did not get a chance to play. Chahal has come to terms with the selectors' choices, acknowledging that only 15 players can make the cut for a World Cup.
Speaking to Wisden, Chahal expressed his understanding of the limited spots in the squad and the necessity to accept the management's decisions.
"I understand that only fifteen players can be a part, because it's a World Cup, where you can't take 17 or 18," Chahal said. "I do feel a little bad, but my motto in life is to move on. I'm used to it now... it's been three World Cups (laughs). "
He added, "I don't think too much in that sense [on competing with other spinners in the Indian team', because I know if I perform well, I'll play. Someone or the other will eventually replace you in the future. That time will come someday."
Initially, India included Axar Patel, Ravindra Jadeja, and Kuldeep Yadav as spinners in the squad. However, an injury to Axar led to Ravichandran Ashwin's inclusion as his replacement, even though Ashwin has had limited appearances in ODIs for India in recent years. For Chahal, what matters most is India's victory in the World Cup.
"I take up the challenge in this way: definitely, they are doing well and I appreciate that. The main goal is that India should win, because this is not an individual game," he emphasized.
He concluded, "If I am part of the team or not, they are like my brothers. Obviously, I support India [team]. I like the challenge: it tells me I need to work hard so that I come back."
Several former cricketers have voiced their support for Chahal, asserting that his omission from the World Cup squad could prove costly for the Indian team. Nonetheless, Chahal remains hopeful for India's success in the tournament.
Also Read: ODI World Cup 2023: Sehwag offers advice to India; reveals Dhoni's one-liner in 2011 to handle pressure
Last Updated Oct 1, 2023, 4:36 PM IST