Graffitied messages on streets carry corona tales

Local administration of South Dinajpur district in West Bengal has taken innovative measures to raise awareness on social distancing during coronavirus lockdown. They are painting the streets to spread this message across.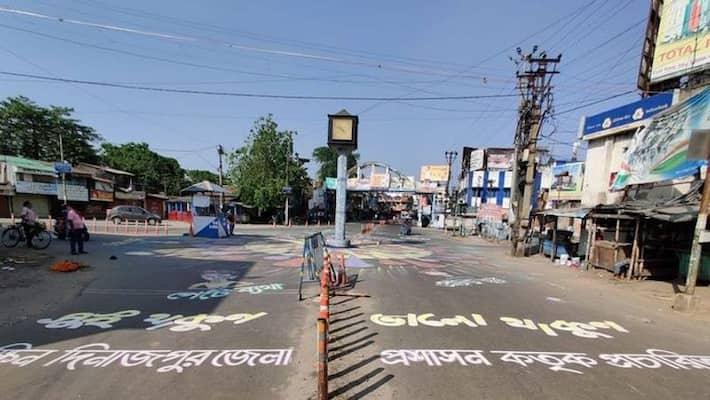 South Donajpur: Two weeks have already gone by since the coronavirus lockdown was introduced in the country. But, the common man is still not aware of the dangers of this deadly coronavirus. Local administrations across India are now worried. They need to drive home the message that social distancing among people is important even after the lockdown is lifted. The local administration of South Dinajpur district in West Bengal hot upon an innovative idea.
Also read: Coronavirus: Number of cases jumps to above 1000 in Maharashtra
In Balurghat, the district headquarters of South Dinajpur, work is underway. The staff is making arrangements to ensure the streets are graffitied. The busiest areas of the city were first earmarked. Then, they called a local artist, Shyam Das. Now, under Das's leadership, 15 to 20 artists are working day and night, to spread awareness through their street paintings.
In these large scale street paintings, they are busting many myths about coronavirus, revealing various symptoms of this disease, offering advice to prevent the spread of this virus. With each stroke of the brush, the roads of Balurghat city are turning into a work of art. The artists claimed that following the lockdown, people will step out of their homes, witness these street paintings, and immediately realise that the world has changed. And the messages on these streets will keep teaching them a lesson or two emphasising on the importance of precautionary measures.
Artist Shyam Das said that he is very happy he could use his art for the welfare of society. He also added that it was the district collector, who made all of this possible. Once Das was intimated, he got down to work with his co-artists, wasting no time. 
It takes 12 to 15 hours to complete one such painting. Debashish Sikder, who is overseeing the whole street art project in Balughat, said, street paintings have a long history. It is proven to be very appealing to the people. So, they believe, it could be a very strong weapon against the coronavirus. 
According to the district administration, not only Balurghat city, they plan to extend this street art-based awareness campaign to other places of the district. People of Balurghat are pleasantly surprised with this novel initiative of the local administration. 
Last Updated Apr 8, 2020, 8:18 PM IST