Petrol, diesel prices on October 12: Check fuel rate in Bengaluru, Mumbai, Kolkata and more
Petrol, Diesel Prices on October 12: Keep yourself updated on the daily petrol and diesel price changes, as oil marketing companies release these updates at 6 am. While most areas experience stable pricing, some cities might encounter minor fluctuations.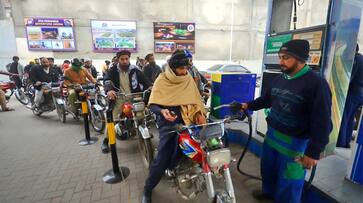 A slight decline was seen in the price of crude oil in the international market today. Around 6 am on Thursday, WTI crude was being sold at $ 83.15 per barrel. At the same time, Brent crude has also come down to $ 85.57 per barrel
With a few small adjustments, Indian oil firms maintained the pricing of petrol and diesel in all major cities on Thursday, October 12. However, because of value-added tax (VAT), freight costs, municipal taxes, etc., these differ from state to state.
New Delhi
Petrol price: Rs 96.72
Diesel price: Rs 89.62
Mumbai
Petrol price: Rs 106.31
Diesel price: Rs 94.27
Chennai
Petrol price: Rs 102.63
Diesel price: Rs 94.46
Kolkata
Petrol price: Rs 106.03
Diesel price: Rs 92.76
Bengaluru
Petrol price: Rs 101.94
Diesel price: Rs 87.89
Noida
Petrol price: Rs 96.79
Diesel price: Rs 89.96
Gurugram
Petrol price: Rs 96.84
Diesel price: Rs 89.72
Last Updated Oct 12, 2023, 9:37 AM IST