Petrol and Diesel prices today: Check August 31 fuel cost in your city
Petrol Diesel Prices Today: Petrol-diesel prices are released every day by the oil marketing companies at 6 a.m. There has been no change in the prices of petrol and diesel across the country barring a few cities where some minor fluctuations have been noticed.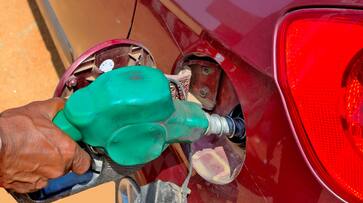 Petrol, and Diesel Prices Today: On Thursday, August 31, the prices of both petrol and diesel remained unchanged in major cities like New Delhi, Kolkata, Mumbai, and Chennai. These daily fuel rates, whether they fluctuate or stay constant, are officially announced at 6 a.m. each day. However, it's important to note that these rates can vary from state to state due to factors such as value-added tax (VAT), freight charges, local taxes, and more.
Currently, the price of petrol in Delhi stands at Rs 96.72 per litre, with diesel priced at Rs 89.62 per litre. In Mumbai, petrol is retailing at Rs 106.31 per litre, while diesel is at Rs 94.27 per litre. In Kolkata, the price of petrol is Rs 106.03 per litre, and diesel is Rs 92.76 per litre. Meanwhile, in Chennai, petrol is being sold at Rs 102.63 per litre, and diesel is priced at Rs 94.24 per litre.
Bengaluru    
Petrol: Rs 101.94    
Diesel: Rs 87.89
Chandigarh    
Petrol: Rs 96.20    
Diesel: Rs 84.26
Gurugram    
Petrol: Rs 96.84    
Diesel: Rs 89.72
Lucknow    
Petrol: Rs 96.57    
Diesel: Rs 89.76
Noida    
Petrol: Rs 96.92    
Diesel: Rs 90.08
Hyderabad
Petrol: Rs 109.66  
Diesel: Rs 97.82
Jaipur
Petrol: Rs 108.48  
Diesel: Rs 93.72
In India, the pricing of petrol and diesel is determined by oil marketing companies (OMCs), including Indian Oil, Bharat Petroleum, and Hindustan Petroleum. This determination is made on a daily basis, with rates adjusted in accordance with global crude oil prices. These daily rate updates are announced at 6 a.m., and as mentioned earlier, they can differ from state to state due to various factors like Value Added Tax (VAT), freight charges, and local taxes.
On Wednesday, Union Minister for Petroleum and Natural Gas, Hardeep Singh Puri, urged states with non-BJP governments to consider reducing the value-added tax (VAT) on petrol and diesel. He pointed out that BJP-led central and state governments had previously reduced excise on two occasions, in November 2021 and May 2022. Many BJP-ruled states also lowered their VAT rates during these reductions. Puri emphasized the importance of non-BJP states reciprocating these efforts by reducing their own VAT rates.
"We always like to meet our friends and collaborators at least halfway," Puri remarked, "and I think more such positive decisions, like the ones being announced by the prime minister, can be expected once non-BJP states reduce their VAT. I will become an advocate for further reductions provided the non-BJP states do their part first, and then we will assess what more can be done if the results are favourable."
These discussions come at a time when the government faces criticism from the opposition due to the relatively high prices of petrol and diesel, even though international crude oil prices have significantly decreased from the multi-year highs observed over the past year.
Last Updated Aug 31, 2023, 9:06 AM IST