Nike's legal battle explained: Protecting Flyknit technology against rivals New Balance and Skechers
Nike files lawsuits against New Balance and Skechers over alleged patent infringement of their innovative Flyknit technology, escalating a legal battle in the footwear industry.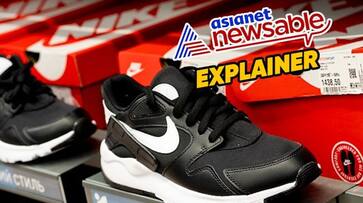 Nike, the renowned footwear giant, recently took legal action against New Balance and Skechers, filing federal lawsuits on November 7. The lawsuits, reported by Reuters, accuse the two rival companies of infringing on patents integral to Nike's technology for constructing the upper sections of sneakers. In the lawsuit, filed in Massachusetts federal court, Nike accuses New Balance of infringing on their patented Flyknit technology. Simultaneously, a separate lawsuit against California-based Skechers was filed in Los Angeles, alleging similar patent violations.
Nike's Allegations and Patent Infringement
The legal complaint contends that various athletic shoes from New Balance, including lines like Fresh Foam and FuelCell, trespass on Nike's patent rights. Skechers' Ultra Flex and Glide Step brands are also alleged to contravene Nike's patented technology, according to the lawsuit.
Nike asserts that their Flyknit technology allows for the production of high-performance uppers while reducing material usage and waste. They have requested the courts for unspecified monetary damages and an injunction to permanently prevent New Balance and Skechers from continuing to infringe on their patents.
Understanding Flyknit Technology
In the fast-paced, competitive world of athletic footwear, innovation is the heartbeat that drives brands to set themselves apart. Among the trailblazers, Nike's Flyknit technology stands as a beacon of cutting-edge design and engineering excellence, redefining the way sneakers are crafted and performing a delicate dance between art and science.
Flyknit, introduced by Nike, is not just a mere shoe construction technique; it's a game-changer. Revolutionizing the way uppers of athletic shoes are made, this technology employs high-strength fibers intricately woven into lightweight, durable, and formfitting uppers. The methodology behind Flyknit centers on precision, using targeted areas of support and flexibility to optimize performance, reduce waste, and enhance comfort for athletes across various disciplines.
The heart of Flyknit lies in its ability to combine lightweight materials with structural integrity. This unique knitting process has reshaped the industry by allowing for a more sustainable and efficient production method. The technology's use of minimum materials and waste reduction reflects a commitment to environmental responsibility, a vital aspect in today's eco-conscious consumer landscape.
One of the hallmarks of Flyknit is its versatility. From running to soccer and basketball shoes, the technology adapts seamlessly to different athletic needs. Nike's commitment to innovation has enabled them to engineer specific variations of Flyknit, tailoring each to the unique demands of the sport. The result? Sneakers that provide not just style but also unparalleled performance, giving athletes the edge they seek on the field, court, or track.
As the footwear industry continues to evolve, the significance of Flyknit technology in shaping the future of athletic shoes cannot be overstated. The pursuit of innovation remains relentless, with Nike and other industry giants committed to pushing boundaries, introducing advancements that not only enhance performance but also reduce the environmental impact of manufacturing processes.
Past Legal Actions and New Balance's Response
This move marks Nike's ongoing effort to protect its patent rights, having previously pursued legal action against other major brands such as Adidas, Puma, and Lululemon for infringing on Flyknit patents. While Adidas and Puma have settled their disputes, Nike's case against Lululemon is still ongoing.
In response to the lawsuit, New Balance conveyed a statement expressing their commitment to respecting competitors' intellectual property rights. They countered Nike's claim by asserting that traditional manufacturing methods, commonly employed within the footwear industry for decades, are not exclusively owned by Nike.
The legal battle between these footwear giants highlights the fierce competition within the industry, revolving around innovative technologies and the protection of intellectual property rights.
Last Updated Nov 9, 2023, 11:53 AM IST