Why Jordan turned away Joe Biden, made him to re-route to Israel
Jordan called off a planned summit with Arab leaders following a devastating explosion at a Gaza hospital, leading to the withdrawal of Palestinian Authority leader Mahmoud Abbas from the meetings.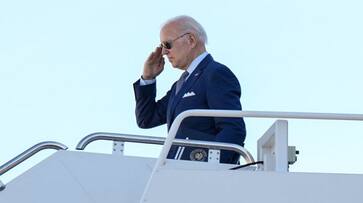 United States President Joe Biden faced significant challenges in his efforts to de-escalate tensions in the ongoing conflict between Israel and Hamas, even before his scheduled departure to the Middle East. Jordan cancelled the planned summit with Arab leaders due to a tragic explosion at a Gaza hospital, which resulted in hundreds of casualties. This postponement followed Palestinian Authority leader Mahmoud Abbas's withdrawal from the meetings in protest of the hospital blast, which the Hamas-run Health Ministry in Gaza attributed to an Israeli airstrike.
The bombing of Al-Ahli Baptist Hospital in Gaza City intensified the ongoing conflict between Israel and Hamas. President Biden expressed his deepest condolences for the innocent lives lost in the hospital explosion and wished a swift recovery to the injured. In deciding not to travel to Jordan, the White House claimed that it considered the days of mourning declared by President Abbas for the victims of the hospital attack.
Disturbing scenes captured on video depicted the aftermath of the bombing, which Hamas blamed on Israeli airstrikes. Israel, however, denied responsibility for the hospital's destruction, emphasizing that a hospital is a highly sensitive facility and not an IDF target. They stated that the IDF is currently investigating the incident and always prioritizes accuracy in its operations.
The cancellation of the summit underscores the growing volatility of the situation and the challenges the United States faces in the region. President Biden's decision to visit a conflict zone, coming in the same year as his surprise visit to Ukraine, demonstrates his readiness to take personal and political risks as he becomes deeply engaged in another complex foreign conflict. 
This high-stakes presidential trip reflects Biden's belief in the central role of the United States on the global stage and his faith in personal diplomacy to make a meaningful impact. Biden's travels are fraught with security challenges, as previous visits by US officials were marred by Palestinian rocket attacks on Israel. Further Israeli airstrikes in Gaza may invite additional criticism, precisely when Biden intends to reaffirm strong ties with the United States' closest regional ally.
In recent days, the US has subtly adjusted its approach, reaffirming unwavering support for Israel while gradually amplifying its diplomatic efforts to address the humanitarian crisis in Gaza. President Biden and his team have received increasingly dire warnings regarding the potential for images of distressed Palestinians to trigger protests and wider instability across the Middle East.
Last Updated Oct 18, 2023, 10:41 AM IST