Who is Yahya Sinwar, the 'Butcher from Khan Younis' on top of Israel's hitlist?
The journey of Yahya Sinwar, the head of Hamas, from a Gaza refugee camp to leading a terrorist organization is marked by violence and incarceration, yet he remains a prominent figure in the region's complex dynamics.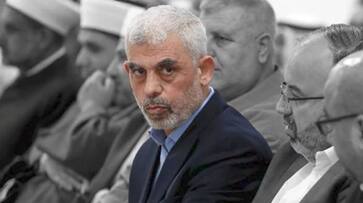 Yahya Sinwar is currently regarded as Israel's foremost adversary. The Israeli Defense Forces characterize Sinwar as a direct threat to their nation, along with his "genocidal terrorist organization," Hamas, which is deemed a global menace. Israel holds Sinwar responsible for the terrorist attacks that occurred on October 7, claiming the lives of more than 1,300 Israelis and foreign nationals. However, Israel's ground offensive isn't solely aimed at pursuing Sinwar; it's a broader mission to dismantle the entire governing authority of Hamas in Gaza.
Meet Yahya Sinwar
Yahya Sinwar earned the moniker "the Butcher from Khan Younis" due to his involvement in the killing of Palestinian collaborators. Sinwar assumed the leadership of Hamas in 2017, succeeding Ismail Haniyeh. He's known for overseeing the day-to-day administration in Gaza and is believed to be concealed within the intricate network of tunnels used by Hamas militants in Gaza for the storage of weapons, fighters, and hostages, as per Israeli officials. Sinwar's notoriety predates the coordinated terrorist attack on kibbutzim, music festivals, and city streets on October 7. 
Born in a Gaza refugee camp in the early 1960s, Sinwar joined Hamas after its establishment in 1987. He gained a reputation for his brutality, reportedly playing a role in creating the militant group's internal security force, as outlined in a profile by the European Council on Foreign Relations.
He was captured by Israel just two years later and sentenced to life imprisonment for his involvement in the killing of Israeli troops and Palestinian collaborators. However, imprisonment didn't hinder his ascent within the group; it also afforded him the opportunity to learn Hebrew, the language of his adversaries.
Sinwar spent 24 years behind bars. He was among over 1,000 Palestinians released in exchange for Israeli soldier Gilad Shalit, who had been held hostage by Hamas for five years. The exchange sparked mixed emotions due to the release of other violent prisoners.
In 2015, the U.S. Department of State designated Sinwar as a terrorist.
One of his earliest known attacks against Israel involved the abduction of two Israeli soldiers. Sinwar has consistently promised to secure the release of prisoners since his secret election as the head of Hamas in Gaza in 2017.
Following the succession of former Hamas leader Ismail Haniyeh, Sinwar attempted to improve relations with Egypt and Fatah, a more secular and moderate faction controlling the Palestinian Authority in the West Bank. He also sought to pressure Israel into easing its military blockade on Gaza through a public diplomacy campaign and by organizing large-scale Palestinian protests at the Israeli border.
In 2018, Sinwar expressed Palestinians' preference for achieving their rights through peaceful means but asserted their entitlement to resort to resistance if necessary.
Facing notable opposition in an internal Hamas election, Sinwar may have returned to a more confrontational approach. Mohammed Deif, the commander of Hamas' military wing, known for his hardline stance, orchestrated a series of attacks on Israel referred to as the "al-Aqsa Flood," involving land, sea, and airstrikes.
Last Updated Oct 16, 2023, 11:16 AM IST