WATCH: Videos of Palestinians celebrating Hamas-led group's attack on southern Israel goes viral
Israel on Saturday morning declared a "state of readiness for war", amid a massive barrage of rockets from the Gaza Strip and infiltration into its southern area, killing at least one person and injuring 16 others.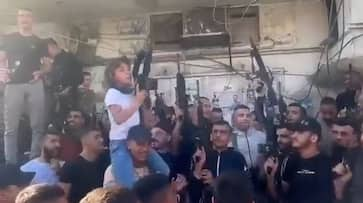 Israel declared a "state of readiness for war" on Saturday morning in response to a significant barrage of rockets launched from the Gaza Strip and an infiltration into its southern region, resulting in at least one fatality and 16 injuries. The Israel Defense Forces (IDF) announced that Chief of Staff Lt. Gen. Herzi Halevi was conducting an assessment and approving action plans. The IDF statement placed responsibility squarely on Hamas, stating, "Hamas... which is behind this attack, will bear the results and responsibility for the events."
Magen David Adom, the rescue and relief service, reported one person killed and 16 others wounded in rocket attacks targeting southern and central Israel. A woman in her 60s lost her life in a direct rocket strike in southern Gderot.
Among the injured, two were in serious condition, six in moderate condition, and seven sustained minor injuries, according to the medics.
The IDF issued a warning that "the Hamas terror group will pay a very heavy price" for their surprise attack. They revealed that Hamas had carried out a coordinated operation, involving rocket fire and a terrorist infiltration into Israeli territory.
Mohammed Deif, the head of Hamas' military wing, stated, "We warned the enemy not to continue its aggression against the Al-Aqsa Mosque," and indicated that this was just the initial phase of Hamas' renewed efforts against Israel.
Instructions were issued by the Israeli military to residents of towns near the Gaza Strip to stay in their homes, and the rest of the public was advised to remain close to bomb shelters.
Unverified footage from the Gaza Strip reportedly showed Hamas militants with the body of an IDF soldier taken from Israel during the morning's attack, as described by the Times of Israel.
In response to the situation, Minister of Defence Yoav Gallant approved the draft of reserve soldiers in alignment with the IDF's requirements. Prime Minister Benjamin Netanyahu was en route to the Defence Ministry Headquarters for a security assessment with the participation of all heads of the security establishment.
Meanwhile, several unverified videos of Palestinians celebrating the attack on Israel by Hama-led armed groups has gone viral on X, formerly known as Twitter. Asianet Newsable does not vouch for the authenticity of these videos. Take a look:
Last Updated Oct 7, 2023, 1:36 PM IST