WATCH: Philippines airport employee swallows cash allegedly stolen from passenger
Promptly responding to the allegations, the Office for Transportation Security (OTS) posted an official statement on its Facebook page. They confirmed that the security officer's identity had been established, and efforts to gather evidence were already underway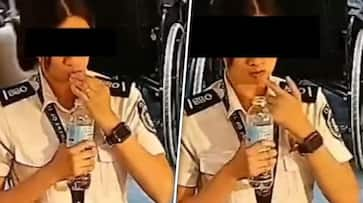 Authorities in the Philippines have launched an investigation on an airport security officer who was caught on video swallowing $300 allegedly stolen from a Chinese passenger. The event took place at the Ninoy Aquino International Airport in Manila, Philippines on September 8. The accused Airport security Officer is subject to an ongoing investigation.
The women including five other Airport security Officers are suspended until the conclusion of the ongoing investigation. In the viral video, a women airport security officer took $300 from her waist and stuffed it in her. She then drank water to swallow it. A bystander was also ignored by the women officer as she gushingly tried to cover her mouth with a handkerchief.
All her antics were recorded live through a CCTV camera. Her supervisor also approached the women officer after noticing her deed live on a security screen. The officer reportedly stole $300 from a Chinese passenger. Office for Transportation Security (OTS) condemned the behavior of the officer.
They said in a statement, "Upon receipt of the information about the recent allegations of theft involving a Security Screening Officer (SSO) at Ninoy Aquino International Airport Terminal 1, where a cash amounting to three hundred (300) US dollars went missing, the Office for Transportation Security (OTS) took actions to validate the information and launch its fact-finding investigation."
This is not the first time a security officer was found stealing from a passenger at the Ninoy Aquino International Airport. At the start of this year, a security officer was caught red-handed while stealing money from a Thai tourist. Another security officer was arrested for taking a watch from a Chinese passenger. The recurring pattern of such events showcases a lack of discipline in the vigilance management.
Last Updated Sep 23, 2023, 6:08 PM IST