WATCH: Fighter jet crashes during Michigan airshow; pilots eject safely amidst terrifying scene
Dramatic footages capture a fighter jet crashing during a Michigan airshow, with pilots safely ejecting, causing the event's cancellation and prompting investigations into the incident's cause.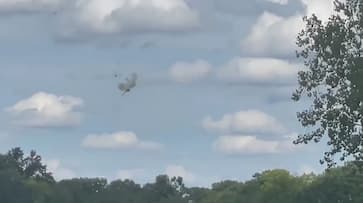 Harrowing videos have surfaced online, capturing the dramatic moment a fighter jet crashed during an airshow in Michigan. The incident involved a MiG-23 jet, and fortunately, both pilots aboard successfully ejected and landed safely, as reported by Fox 12. Miraculously, there were no casualties reported at the crash site.
The ill-fated jet was participating in a Michigan air show at Willow Run Airport, located east of Ypsilanti. The crash occurred suddenly, causing the jet to plunge into the parking lot of a nearby apartment complex. Officials from the Wayne County Airport Authority (WCAA) issued a statement detailing the incident.
In the viral videos, the pilots can be seen swiftly ejecting from the aircraft as smoke billowed from the jet. Brief bursts of fire were also visible from the plane, adding to the chaos of the moment.
Following the crash, the organizers of the Thunder Over Michigan air show made an announcement on Facebook, declaring the show's immediate termination.
"Ladies and Gentlemen, we have a situation that requires us to stop the show," read the post on the event's Facebook page. Attendees were instructed to head to their vehicles and exit the airfield calmly.
In the aftermath of the crash, both the Federal Aviation Administration (FAA) and the National Transportation Safety Board initiated investigations to determine the cause of the incident.
Social media users also joined in sharing videos and images of the fiery aftermath, underlining the intensity of the situation. Some users expressed relief that the pilot was able to eject safely, while others shared shock and concern over the terrifying incident. The incident serves as a reminder of the risks and challenges inherent in high-stakes aviation events.
As authorities delve into the investigation, the incident has underscored the vital importance of safety protocols and the unpredictable nature of live air shows.
Last Updated Aug 14, 2023, 1:43 PM IST