WATCH: Artist transforms humble potato into Mona Lisa masterpiece; amazes internet with food art
An artist transforms a potato into a canvas for recreating the Mona Lisa, capturing the internet's fascination with food art and creativity.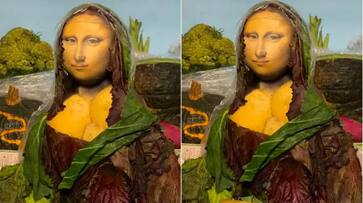 A viral video featuring an artist creating an intriguing masterpiece using food as a canvas has captivated the internet. The video showcases the artist crafting the likeness of Mona Lisa, the iconic figure from Leonardo Da Vinci's renowned painting, onto the surface of a humble potato. The impressive demonstration has drawn immense attention online, with viewers marveling at the artist's skill.
Posted on Instagram by @huylson, the captivating reel commences with the artist sketching the distinctive features of Mona Lisa on the potato using a black pen. With meticulous attention to detail, they employ yellow, white, and brown hues to paint and contour the potato's surface, gradually shaping the familiar visage.
The artist then embellishes the outer edges of the potato with dark colors to complete the portrayal. As the potato's face takes shape, various vegetables are utilized to recreate other elements from the Mona Lisa painting. Finally, the artist presents the masterpiece in a separate setting, capturing photographs of their unique creation.
Though initially shared in August, the video has continued to circulate online and has garnered an impressive 4.7 million views thus far. Instagram users have been entranced by this artistic creation, christening it with creative monikers such as "Monato," "Aloo Lisa," and "Veggie Liza." The reactions from viewers have ranged from admiration for the artist's talent to humorous remarks about the potato's fate.
Some of the notable reactions include comments like, "This proves that even potatoes can look pretty with a bit of contouring," "This is Potalisa now," and "It's a masterpiece." Others expressed astonishment at the artist's skill and resourcefulness. A few users jokingly lamented the fate of the potato, which had the potential to be delicious fries, saying, "It could have turned into delicious fries, RIP potato, but well done," and "This is why I pay for the internet."
Last Updated Oct 20, 2023, 7:45 PM IST