Unprecedented Israeli counter-offensive on Hamas (WATCH)
The Israel Defense Forces (IDF) have launched a counteroffensive against Hamas militants who initiated a barrage of attacks on Israel, including air, land, and sea assaults. Videos shared on social media reveal the IDF's efforts to thwart Hamas militants and vehicles attempting to breach the Gaza Strip's perimeter fence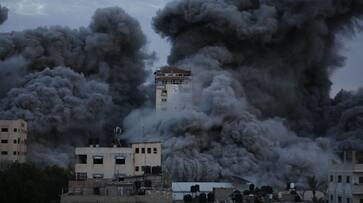 The Israel Defense Forces (IDF) have released footage of their retaliatory action against Hamas militants who launched a series of attacks on Israel, encompassing air, land, and sea on Saturday. Shared across social media, the videos depict IDF aircraft successfully thwarting Hamas militants and other vehicles attempting to breach the perimeter fence from the Gaza Strip into Israel.
Furthermore, IDF fighter jets targeted an operational headquarters used by Hamas' rocket array operatives and another operational headquarters utilized by the Palestinian Islamic Jihad organization.
The initial attack on Israel primarily originated from the Gaza Strip, but as of Sunday, there have been reports of encirclement. Unconfirmed reports suggest a substantial influx of Palestinian militants entering Israel from Jordan. Rockets were fired from southern Lebanon with the aim of damaging a long-range radar installation in northern Israel. In response, Israel has deployed heavy military equipment to its border with Syria as a deterrent.
The IDF also shared footage of a hospital in southern Israel that came under Hamas rocket fire. According to the accompanying social media post, Dr. Chezy Levy, the Director of the Barzilai Medical Center, had taken precautionary measures by relocating patients to safety hours before the attack, thereby preventing loss of life.
IDF Spokesperson LTC (Reserve) Jonathan Conricus provided additional updates on the ground situation. He reported that more than 200 Israelis had lost their lives, with the number expected to rise. A significant number of Israelis, including civilians and soldiers, are held by Hamas in Gaza. 
The IDF's primary objectives include restoring safety to the southern region of the country, securing the border, and preventing future attacks. In addition, the IDF will continue targeting Hamas military facilities in Gaza, marking the response to Hamas' aggression. 
Conricus emphasized that the conflict began with the cold-blooded murder of innocent Israelis by Hamas and that Israel's response aims to counteract an unprecedented level of violence against its citizens.
Last Updated Oct 8, 2023, 11:27 AM IST