Typhoon Doksuri: Chinese man's car flipped over by flash flood; here's what happened next (WATCH)
Watch the intense helicopter rescue of a man swept away by Typhoon Doksuri's flash flood in China's Hebei province.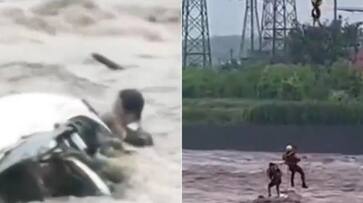 A dramatic video capturing the rescue of a man from a swollen river in China's Hebei province has surfaced on social media. The incident occurred during the flash flooding caused by Typhoon Doksuri, one of the strongest storms to hit China in years. The man was swept away in his car, and firefighters had to employ a helicopter to rescue him from the rapidly gushing water of the raging river in Wu'an city. China's state television broadcast the intense rescue operation.
According to local news outlets, the man's car was carried nearly 100 meters away by the force of the flash flood. Typhoon Doksuri, previously a super typhoon, made its way northward over China after impacting southern Fujian province and causing devastation in the Philippines.
The storm's heavy rains resulted in significant casualties, with at least 20 people reported killed and 19 others still missing. Flash floods submerged roads and inundated neighborhoods with mud, leading to widespread destruction.
As the storm moved northwards, Beijing and its surrounding areas experienced heavy rainfall, with nearly the average rainfall for the entire month of July pouring down in just 40 hours. Locals expressed their shock at the severity of the flooding, comparing it to a similar event in July 2012, during which 79 people lost their lives, and tens of thousands were evacuated. However, this time, the situation appears to be even worse.
Residents acknowledged the scale of the disaster and the inability to control natural forces. More than 100,000 people in Beijing, deemed at risk, have been evacuated to mitigate further damage.
To respond to the crisis, authorities have allocated 110 million yuan ($15.4 million) for disaster relief efforts in Beijing and the surrounding provinces. The situation remains critical as the region grapples with the aftermath of Typhoon Doksuri's impact and the challenges posed by extreme weather events.
Last Updated Aug 1, 2023, 6:03 PM IST