Turkey's Erdogan: Hamas not terrorists, but mujahideen fighting to protect their lands
Turkish President Tayyip Erdogan stated that he does not consider the Palestinian group to be a terrorist organization but rather a liberation group fighting for the protection of Palestinian lands and people. He called for an immediate ceasefire between Israeli and Palestinian forces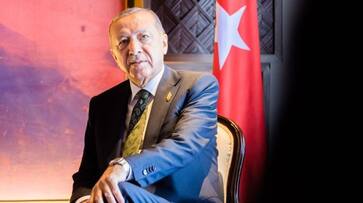 Turkish President Tayyip Erdogan, in his most assertive statements regarding the Gaza conflict, emphasized that the Palestinian group Hamas is not a terrorist organization but a liberation group dedicated to safeguarding Palestinian territories and its people. Addressing members of his ruling AK Party, Erdogan further urged an immediate ceasefire between Israeli and Palestinian forces, emphasizing the need for collective efforts by Muslim nations to achieve a lasting peace in the region.
Erdogan characterized Hamas as a "mujahideen" group, referring to their fight to protect their lands and people. He criticized Western nations for supporting Israel's response to Hamas, stating that the sympathy shown for Israel represents a form of deception.
"From here I appeal to Israel and the whole world. Israel, you can consider Hamas a terrorist organization. The West owes you a lot. But Turkey owes you nothing. Hamas is not a terrorist organization, it is a group of mujahideen who are fighting to protect their lands," the Turkish President said.
Many NATO allies of Turkey consider Hamas a terrorist organization. Italy's Deputy Prime Minister Matteo Salvini swiftly criticized President Erdogan's comments, describing them as "grave and disgusting" and asserting that they did not contribute to de-escalation. Salvini proposed sending a formal protest and summoning the Turkish Ambassador. 
Turkey has expressed condemnation for civilian casualties resulting from Hamas' actions in southern Israel on October 7, but it has also called for Israel to respond in a restrained manner. Additionally, Turkey strongly condemned Israel's significant bombardment of Gaza, which is under Hamas control. Turkey has offered to mediate in the conflict and provided humanitarian aid through several shipments.
Erdogan accused Israel of exploiting Turkey's goodwill. Turkey had been making efforts to improve strained relations with Israel, but Erdogan mentioned that he has now cancelled a planned trip to Israel due to the events in Gaza. Turkey, which hosts members of Hamas on its territory, supports a two-state solution to the long-standing Israeli-Palestinian conflict.\
Last Updated Oct 25, 2023, 6:14 PM IST