Suspect in Maine shooting rampage found dead from self-inflicted gunshot
The US Army reservist accused of killing 22 people and injuring others in a shooting rampage in Maine this week was found dead Friday evening – apparently from a self-inflicted gunshot – after a two-day manhunt, a state official said.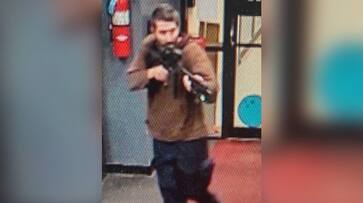 The governor of Maine said that the suspect in a mass shooting that left 22 people dead had been apprehended, after a two-day search that had enlisted the help of hundreds of law enforcement officers and alarmed the state's nervous citizens.
According to Maine Public Safety Commissioner Mike Sauschuck, 40-year-old Army reserve Robert Card died from a self-inflicted gunshot wound, and his corpse was found around 7:45 p.m. (2345 GMT).
Card is thought to be the culprit behind the Wednesday night rampage that resulted in the deaths of 22 people and the injuries of thirteen more at a bar-restaurant and a bowling alley.
Card's body was found in Lisbon Falls, southeast of Lewiston near the Androscoggin River, authorities said. US media said his body was found near a recycling center that was Card's place of employment before he lost his job there.
"I'm breathing a sigh of relief tonight knowing that Robert Card is no longer a threat to anyone," Governor Janet Mills stated during a hurriedly convened press conference.
Senator Susan Collins of Maine, who was previously on Twitter, expressed a similar attitude when she wrote on X that President Joe Biden contacted her "to tell me the perpetrator of the heinous attacks in Lewiston had been found." 
The horrific shooting, according to Biden, resulted in "a tragic two days -- not just for Lewiston, Maine, but for our entire country."
Authorities on Friday identified the victims, ranging from a husband and wife in their 70s, to a 14-year-old boy killed alongside his father. The killing spree in a bowling alley and bar-restaurant marked the deadliest mass shooting in the US this year.
This latest shooting is one of the deadliest in the United States since 2017, when a gunman opened fire on a crowded music festival in Las Vegas, killing 60 people.
 
Last Updated Oct 28, 2023, 2:01 PM IST