Shocking! Chinese teacher forces 6-year-old boy to eat his own vomit on birthday; fired after investigation
The article highlights a distressing incident in which a nursery school teacher in China forced a young student to consume his own vomit, resulting in a parental complaint and official investigations.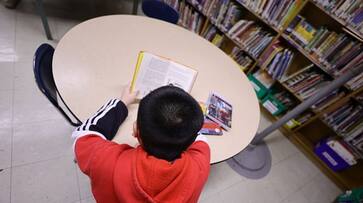 (Image for representation purpose. Credit: Getty Images)
In a deeply disturbing incident, a nursery school teacher in China reportedly forced a six-year-old student to eat his own vomit on his birthday. According to a report by the South China Morning Post, after the student had finished his lunch, the teacher compelled him to consume more food. The young boy had previously vomited "chunks of pumpkin" due to overeating.
This shocking event unfolded on September 15 at the Maluwan Kindergarten in northeastern China's Liaoning province. In response to this incident, the child's parents filed a formal complaint, accusing the teacher of abusing their son. They claimed that their child's illness was a result of being made to eat pumpkin after having a full meal. Additionally, they noted that their son, who had dressed in new clothes for his special day, returned home with soiled attire. The parents only learned about the incident when their child confided in his grandmother, revealing that the teacher had forced him to eat more food despite having already had a proper lunch.
Upon learning of the situation, the parents requested access to the CCTV footage from the school, but their requests were repeatedly denied until law enforcement intervened. After a thorough investigation, the local education office confirmed the incident on October 13 through its official WeChat account. As a consequence, the teacher was ordered to be dismissed from the institution, and the school was instructed to issue an apology to the parents. The education office further recommended an overhaul of the nursery's staff structure, and the school's ranking was dropped as a result.
However, this disturbing incident is not an isolated case in China. In 2017, a preschool run by RYB Education in the Chaoyang area faced complaints to Beijing police regarding a teacher who used needles to discipline children. This teacher, identified by the last name Liu, was subsequently sentenced to 18 months in prison and prohibited from working with children for five years.
Moreover, in August, reports emerged of another kindergarten teacher in northeastern China who had physically abused and forcefully pulled her students to the ground. One parent reported that her child had sustained a fractured nose and subsequently refused to attend school.
Last Updated Oct 24, 2023, 1:00 PM IST