Shani Louk, German-Israeli woman who was paraded half-naked in Gaza Strip, is 'alive'
Shani's mother, Ricarda Louk, received hopeful yet agonizing news of her survival, albeit in critical condition. Urging swift action, she implored German authorities to rescue her daughter, putting aside jurisdiction concerns. The use of Shani's credit card in Gaza heightened the urgency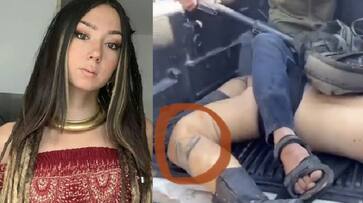 Shani Louk, a 22-year-old German-Israeli tattoo artist, had her life shattered in a horrifying turn of events. She was captured by Hamas terrorists after they launched a shocking attack on a music festival near the Negev Desert, perilously close to the Gaza border. This sudden act of terror sent shockwaves through the region.
Amid the chaos and fear that ensued, videos emerged, revealing a harrowing ordeal Shani had been subjected to. The footage showed her lying unconscious, face down in the back of a pickup truck filled with jeering Hamas militants. In the video clips, a man could be seen pulling her hair, and another person outside the truck spat on her head, amplifying the brutality of the situation.
Shani's mother, Ricarda Louk, fought through her own anguish and distress, searching for information about her beloved daughter. On a seemingly ordinary Tuesday, a ray of hope broke through the darkness. Ricarda announced that she had received fresh information indicating Shani's survival. However, the joy was tempered by the revelation that Shani was in critical condition, battling a severe head injury in a Gaza hospital. Every passing minute was now deemed critical in Shani's fight for life.
Desperation and determination in her voice, Ricarda addressed the German authorities, pleading with them to act swiftly and rescue Shani from the dangerous confines of the Gaza Strip. She urged them not to get entangled in debates about jurisdiction, for time was of the essence. Additionally, the use of Shani's credit card in a shop in the Gaza Strip further heightened the urgency of her situation.
In response to the horrific events, German prosecutors initiated an investigation into Hamas on suspicion of kidnapping and murdering German citizens during the weekend's bloody assaults. The investigation targeted unidentified members of the radical Palestinian Islamist organization, Hamas. In this tense moment, the German government, under the leadership of Chancellor Olaf Scholz, committed to working closely with Israeli authorities to ascertain the fates of German citizens among the hostages and to explore every avenue for securing their freedom. The world watched with bated breath, hoping for Shani's recovery and justice to prevail in the face of such heart-wrenching adversity.
Last Updated Oct 12, 2023, 9:29 AM IST