'He is an idiot...' Russia's Vladimir Putin slams ex-Canadian Parliament speaker over Nazi celebration (WATCH)
Russian President Putin criticizes the former Canadian parliament speaker for celebrating a Ukrainian WWII veteran with Nazi ties during a visit by Ukraine's President. The incident sparked diplomatic tensions, leading to the speaker's resignation and a subsequent apology from the Canadian Prime Minister.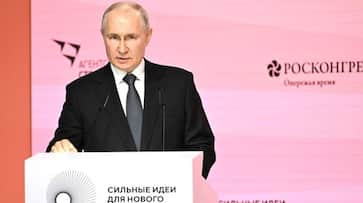 Russian President Vladimir Putin criticized Canada's former parliament speaker, labelling him an "idiot," following an incident where the Canadian legislature celebrated a Ukrainian World War II veteran who had fought alongside the Nazis during Ukrainian President Volodymyr Zelensky's visit to Canada last month.
During Zelensky's visit to parliament, parliament speaker Anthony Ruta hailed an elderly Ukrainian immigrant from his district as a hero, leading to a standing ovation. Ruta resigned when it was discovered that the veteran had served in a Nazi-affiliated military unit.
Putin remarked, "If the speaker of the Canadian parliament suggests that this Canadian-Ukrainian or Ukrainian-Canadian fought against the Russians during World War II, he should understand that he fought on Hitler's side."
The Russian leader continued, "Let's assume he doesn't know this, but if he doesn't know that Hitler and his forces fought against Russia during the war, then he's an idiot. It means he just didn't attend school."
Putin further stated that if the parliament speaker was aware that the Ukrainian veteran had fought alongside the Nazis, he was a "wretch." He added, "It's one or the other."
He criticized the applause for the Nazi veteran, especially by the president of Ukraine, who has Jewish ancestry.
Following the diplomatic tensions, Canadian Prime Minister Justin Trudeau issued an "unreserved" apology to Zelensky and the Ukrainian delegation for the situation.
Putin deployed troops to Ukraine in February 2022, citing concerns about the glorification of pro-Nazi figures in Ukraine and the need for "de-nazification."
Canada's Deputy Prime Minister and Minister of Finance, Chrystia Freeland, acknowledged the "terrible mistake" of honouring the Nazi-affiliated veteran. She urged Canadians to recognize how Putin exploits such mistakes for propaganda purposes and emphasized the importance of countering Russian propaganda
Last Updated Oct 6, 2023, 1:52 PM IST