Meet 2 Gujarat-origin girls who are part of Israel's war against Hamas
Amid the Israel-Hamas conflict that has grabbed global headlines, the tale of two young women of Indian origin from Gujarat who are serving in the Israeli army has emerged. Nitsha and Riya, hailing from Kotadi village in Gujarat, are now permanent residents of Israel, and their families have been living there for years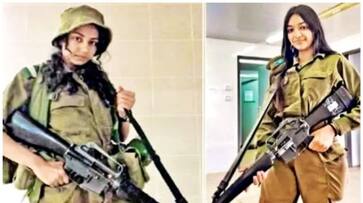 For a year-and-a-half, the world's attention was focused on the Russia-Ukraine conflict. However, when Palestinian terrorist outfit Hamas launched unleashed a shocking bloodbath on October 7, the Israel-Hamas war took center stage in global news, overshadowing Ukraine. In the midst of this conflict, reports have emerged about two young women of Indian origin from Gujarat who are serving in the Israeli army. These women, Nitsha and Riya, have become part of Israel's military forces.
Both Nitsha and Riya hail from Kotadi village in Manavadar taluk of Junagadh, Gujarat. Their families immigrated to Israel several years ago, and both have acquired Israeli citizenship, becoming permanent residents. Nitsha's father, Jivabhai Muniyasia, runs a general store in the capital, Tel Aviv. He proudly talks about his daughter Nisha, who has been serving on the borders of Lebanon, Syria, Jordan, and Egypt for the past two years. In 2021, Nisha was even stationed at the Gush Deni battlefield during Israeli forces' operations against Hamas in Gaza.
It's noteworthy that many Gujaratis have already immigrated to Israel from India. Various media reports have highlighted these migrations, and it was reported that Gujarat Chief Minister Vijay Rupani and his wife Anjaliben visited Jeevabhai's residence during their trip to Tel Aviv. In Israel, military service is mandatory for individuals over the age of 18, with exceptions for those who are physically or mentally challenged. Artists and athletes are also required to complete a mandatory period of two years and eight months of military service. The Israel Defense Forces (IDF) maintain a nearly equal female-to-male ratio in their ranks.
In the context of the Israeli-Palestinian conflict, India notably expressed support for Israel, marking a historical departure from its previous stance on the issue. Despite facing criticism from the opposition, India maintains its position on establishing a sovereign Palestinian state. However, the Indian Ministry of Foreign Affairs has distinguished Hamas's actions as terrorist attacks.
Last Updated Oct 14, 2023, 7:24 PM IST