Israeli elite forces rescue over 250 hostages, eliminate more than 60 Hamas terrorists (WATCH)
IDF's Flotilla 13 elite unit executed a mission to reclaim the Sufa military post near the Gaza security fence. In this operation, they successfully rescued around 250 hostages and eliminated over 60 Hamas terrorists. The unit also captured Hamas Southern Naval Division Deputy Commander Mohammas Abu A'ali.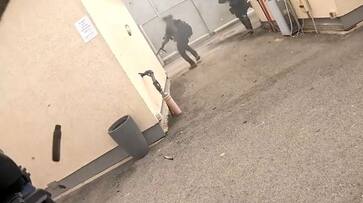 The Israeli Defence Forces on Friday shared a video of the operation carried out by its elite forces to rescue 250 hostages from the Sufa military post near the Gaza border. The IDF shared a video on social media, highlighting the deployment of the Flotilla 13 elite unit in a collaborative mission to reclaim control of the Sufa military post on October 7 in the vicinity of the Gaza security fence.
During the operation that followed, over 250 hostages were successfully rescued, and more than 60 Hamas terrorists were neutralized. Additionally, the elite unit apprehended 26 Hamas militants, among them Hamas Southern Naval Division Deputy Commander Mohammas Abu A'ali.
The Israeli military launched a series of devastating airstrikes on the Gaza Strip, and there were preparations for a potential ground invasion. The complete blockade of the territory, enforced by Israel, was to continue until Hamas militants released approximately 150 hostages taken during a violent incursion over the weekend.
A ground offensive in Gaza, a densely populated area governed by Hamas, would likely result in even higher casualties on both sides, given the intense house-to-house combat.
The assault by Hamas on Saturday and subsequent smaller attacks have caused over 1,300 casualties in Israel, including 247 soldiers, marking a level of violence unseen in the country for decades. In retaliation, Israeli bombardments have claimed the lives of more than 1,530 people in Gaza, according to authorities on both sides. Israel claims that around 1,500 Hamas militants were killed inside its borders, and many casualties in Gaza are believed to be Hamas members. Thousands have been injured on both sides.
The number of people displaced by the airstrikes increased by 25% in a single day, with 423,000 out of a population of 2.3 million seeking refuge, primarily in U.N.-administered schools. Hospitals, struggling to cope with a continuous influx of wounded patients and dwindling supplies, have only a few days' worth of fuel left before power is cut off, according to aid officials.
Ambulance crews, overwhelmed by the situation, had no more space at Gaza's largest hospital, Shifa. Numerous body bags were lined up in the hospital parking lot, as fourteen health facilities had been damaged in the airstrikes, as reported by health officials on Thursday. On Wednesday, Gaza's sole power station ran out of fuel and ceased operations, leaving only scattered private generators to power essential lighting.
Last Updated Oct 13, 2023, 7:42 AM IST