Israeli airstrike obliterates Gaza's Islamic University (WATCH)
Amid a tumultuous conflict, the Israeli Defense Forces (IDF) have shared video footage of their strike on Gaza's Islamic University, accusing Hamas of repurposing the institution for military and weapons development.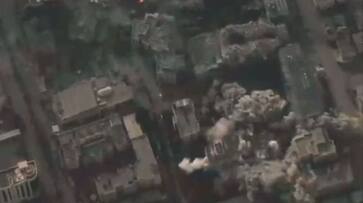 Amidst escalating tensions in the Gaza Strip, the Israeli Defense Forces (IDF) made a significant move on Wednesday. They released video footage capturing the bombing of Gaza's Islamic University. The IDF asserted that the university had been repurposed by Hamas, the Palestinian militant group, as a hub for training, weapons development, and military intelligence.
In a tweet, the IDF announced, "A short while ago, the IDF struck an important Hamas operational, political, and military centre in Gaza—the Islamic University. Hamas transformed a university into a training camp for weapons development and military intelligence."
The conflict had ignited following a surprise attack by Hamas on Israel over the weekend, and it had now entered its fifth day. The toll had climbed dramatically, with over 2,000 people on both sides losing their lives.
The Israeli military response had been swift and comprehensive, as they began amassing troops near the Gaza Strip. In a bid to curtail the situation, Israel imposed a "complete siege" on the Gaza Strip, cutting off vital supplies, including water, fuel, electricity, and food, affecting the over 2 million inhabitants. Calls for humanitarian corridors to deliver aid to trapped Gaza residents were growing louder as the situation became increasingly dire.
Gaza's power authority issued a dire warning that its sole power plant was rapidly running out of fuel, threatening to plunge the region into darkness.
Satellite images captured the scale of the devastation in Gaza, revealing the aftermath of intense Israeli airstrikes in response to Hamas' unprecedented assault. These images were released by the U.S. space technology firm Maxar Technologies, providing a visual testament to the impact of the conflict.
In this dire situation, the IDF expressed its readiness to neutralize Hamas' military capabilities, ensuring the safety of Israeli civilians, as the conflict continued to unfold.
Last Updated Oct 11, 2023, 5:27 PM IST