Israel-Palestine war: Woman whose body was paraded by Hamas a German citizen?
The victim whose body was paraded by Hamas during the attack on Israel has been identified as Shani Lauk, a German national who was visiting an Israeli music festival. Disturbing images were circulated on social media, depicting the Palestinian militant group parading Shani's partially unclothed body on an open truck.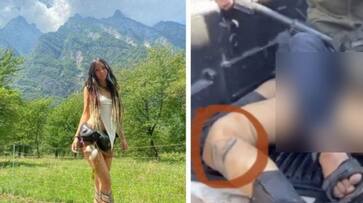 The girl, whose body was paraded by the Palestinian militant group Hamas during the attack on Israel, has been identified as a German national, identified as Shani Lauk, who was just visiting the music festival in Israel. Social media handles shared details of the German national.
In a video statement, Sahni's inconsolable mother appealed to Hamas to at least return her mortal remains.
Disturbing imagery emerged on the Internet on Saturday, depicting Hamas militants parading a partially unclothed deceased individual on an open truck through the city. These videos asserted that the deceased person was an Israeli woman.
The Hamas militants publicly displayed the deceased woman's body within the city, with footage revealing Palestinian civilians engaging in degrading actions towards the deceased, including spitting and slapping. Numerous distressing scenes have emerged from Israel, where Palestinians have entered southern Israel following missile attacks, freely moving about the streets, and targeting Israeli citizens.
On Saturday morning, approximately 5,000 rockets were launched from the Gaza Strip into Israel, resulting in the reported loss of one woman's life during the assault. Hamas militants infiltrated Israeli borders amid the missile attacks, with an estimated 50-60 militants entering Israeli territory and causing chaos.
Hamas has claimed responsibility for the attack on Israel, with its leader Saleh al-Arouri stating, "See you soon in liberated Jerusalem." Prominent Hamas leaders were seen celebrating the attack on Israel while watching it on television, offering gratitude to God for the chaos caused by the militants following their incursion into the country.
Last Updated Oct 8, 2023, 9:41 AM IST