'It is sickening...' TV news correspondent defends reporting on infant beheadings by Hamas
Nicole Zedek also highlighted her conversation with a deputy commander who had been among the first responders at the scene, facing active terrorists hiding in houses. The scenes he described were beyond comprehension, including the decapitation of babies, which left a profound impact on those who witnessed them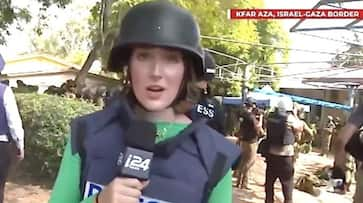 Nicole Zedek, a television news correspondent, found herself at the centre of a global conversation when her graphic reports from the recent Hamas attack on southern Israel went viral. Her description of decapitated infants and other horrifying atrocities raised immediate attention and scrutiny. Zedek, reporting for i24NEWS, an international 24-hour news channel based in Tel Aviv, addressed the doubts and scepticism surrounding her reporting during an appearance on the radio talk show, 'The Clay Travis & Buck Sexton Show'.
Zedek welcomed the rapid dissemination of her reports, emphasizing the importance of showing the world the stark realities on the ground in Israel. She asserted that she had personally witnessed the disturbing scenes she described as she moved through a community situated just a quarter of a mile from the Gaza border. 
Her eyewitness account included gruesome images of overturned baby cribs splattered with blood and other tragic remnants of the violence.
Furthermore, CNN reported that the Israeli prime minister's office had confirmed the report of beheaded babies and toddlers. Zedek also highlighted her conversation with a deputy commander who had been among the first responders at the scene, facing active terrorists hiding in houses. The scenes he described were beyond comprehension, including the decapitation of babies, which left a profound impact on those who witnessed them. Zedek expressed her wish that such atrocities were not true, acknowledging the difficulty of comprehending how such heinous crimes could be committed.
When confronted with comments that were critical of her reportage and those who accused her of making up the gruesome details, she said: "You know, it's sickening, really, that people are asking, 'Where are the babies? Why aren't you showing the babies?' 'Is that something that anyone would want to the first thing with their own eyes?''
She emphasized that the focus should not be on details like the specific number, such as 40, which was a rough estimate, or the terminology used, like "babies." 
Zedek stressed that regardless of age, whether three months old or three years old, these children were someone's babies. Zedek maintained that her accounts were corroborated by multiple soldiers who had witnessed the brutal mutilation of these children, reinforcing the tragic reality on the ground.
Zedek concluded by expressing her dismay at those who denied the grim truth of the situation, suggesting that such denial reflected an unwillingness to confront the harsh realities unfolding in southern Israel. The horrors she reported serve as a stark reminder of the gravity of the situation and the urgent need for international attention and action.
Last Updated Oct 12, 2023, 10:58 AM IST